Press enter after choosing selection
Northanger Abbey
DVD - 2008 DVD TV Northanger 3 On Shelf No requests on this item Community Rating: 4.3 out of 5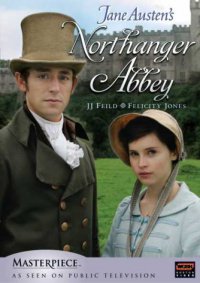 Locations
Call Number: DVD TV Northanger
On Shelf At: Downtown Library, Westgate Branch

Location

& Checkout Length

Call Number
Checkout Length
Item Status
Downtown 1st Floor
1-week checkout
DVD TV Northanger
1-week checkout
On Shelf
Downtown 1st Floor
1-week checkout
DVD TV Northanger
1-week checkout
On Shelf
Westgate Adult A/V
1-week checkout
DVD TV Northanger
1-week checkout
On Shelf
Based on the novel by Jane Austen.
"As seen on public television."
Felicity Jones, J.J. Feild, Carey Mulligan, William Beck.
"In Jane Austen's gentle parody of gothic fiction, romance novel addict Catherine Morland is invited to a medieval country house that appeals to her most lurid fantasies. She forms a close friendship with the younger son on the estate, Henry Tilney, but their budding romance is mysteriously cut short"--Container.
DVD, NTSC, Region 1, 16:9 anamorphic widescreen, Dolby digital.
Contents: Northanger Abbey.

COMMUNITY REVIEWS
Northanger Abbey submitted by SBNB on July 28, 2014, 9:41pm I was mildly disappointed with this movie.
A+ submitted by hduke on June 19, 2016, 12:25am Ten minutes into this movie I had to pause it so I could go buy a copy on Amazon. It was that delightful. :)
Lovely submitted by majean on August 8, 2018, 8:26pm I love J. J. Feild, so it was nice to see him in role as hero. I think they have good chemistry as a couple.
c submitted by kscapellie on July 11, 2020, 5:08pm good couple
Enjoyable submitted by tkuz5 on June 22, 2021, 8:19pm Really enjoyed this adaptation. Love Felicity Jones and JJ Field
Reflects the spirit of the book submitted by Diananana on June 17, 2022, 10:47pm I adore this adaptation. It succeeds where others have failed. It captures Catherine's naïveté and obsession with gothic novels. It solidly brings out Austen's point that the mundane callousness of real people is just as evil as the fantastical cruelty in novels. J.J. Feild and Felicity Jones as Henry and Catherine are perfect in their roles, as is Sylvestra Le Touzel as Mrs. Allen. (Sylvestra Le Touzel played Fanny Price in the 1983 adaptation of Mansfield Park.) In the film, characters sometimes engage in behavior that is well beyond their most improper actions in the book. Perhaps this was done to increase the drama or because the subtleties of Regency manners are hard for modern viewers to understand. These are just details. As a whole, the film reflects the spirit of the book. I never appreciated the novel very much before seeing this film, and now I am very fond of it.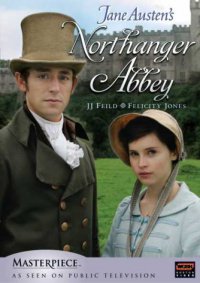 SERIES
Masterpiece theatre (Television program)

PUBLISHED
Boston : WGBH Boston Video, c2008.
Year Published: 2008
Description: 1 videodisc (ca. 86 min.) : sd., col. ; 4 3/4 in.
Language: English
Format: DVD

ISBN/STANDARD NUMBER
9781593757885
1593757883

ADDITIONAL CREDITS
Jones, Jon.
O'Sullivan, Morgan.
Thompson, Keith.
Davies, Andrew, 1936-
Jones, Felicity.
Feild, J. J.
Mulligan, Carey, 1985-
Beck, William.
Austen, Jane, 1775-1817.
Granada Television.
ITV Productions.
WGBH (Television station : Boston, Mass.)
WGBH Video (Firm)

SUBJECTS
Upper class -- Bath -- Drama.
Country homes -- England -- Drama.
Man-woman relationships -- England -- Drama.
England -- Drama.
Television programs -- Great Britain.
Romance -- Television mini-series.
Melodrama -- Television mini-series.
Women -- Television mini-series.
Adaptation -- Television mini-series.
Love stories.
Melodrama.
Video recordings for the hearing impaired.