Press enter after choosing selection
In Bruges
DVD - 2008 DVD Comedy In 1 On Shelf No requests on this item Community Rating: 4.6 out of 5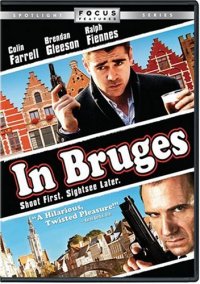 Locations
Call Number: DVD Comedy In
On Shelf At: Downtown Library

| Location | Call Number | Branch | Item Status |
| --- | --- | --- | --- |
| Downtown 1st Floor | DVD Comedy In | Downtown Library | On Shelf |
Originally released as a motion picture in 2008.
Special features: Deleted scenes; gag reel; making of "In Bruges."
Colin Farrell, Brendan Gleeson, Ralph Fiennes, Clémence Poésy, Jérémie Rénier, Jordan Prentice.
Hit men Ray and Ken have been ordered to cool their heels in the storybook city of Bruges (it's in Belgium) after finishing a big job. But since hit men make the worst tourists, they soon find themselves in a life-and-death struggle of comic proportions against one very angry crime boss.
DVD, region 1, anamorphic widescreen (2.35:1) presentation; Dolby Digital 5.1 surround, dual layer, NTSC.

COMMUNITY REVIEWS
Are you in hell... or in Bruges submitted by irenzero on September 7, 2008, 11:12pm
Wow… that's all I have right now, Wow. This film, the story of a pair of blue-collar types who happen to be hit men and are sent to Bruges to cool their heels after a hit gone wrong, is not what you would expect. It's got an almost contemplative, reflective, and stillness that you wouldn't expect in a film about hit men. Sure there's violence, there's drugs, and hookers, there are laughs, and a kinda riff on the Pulp Fiction buddy hit man flick. However, the real core of the film are the characters, you have Collin Ferrell and Brendan Gleason, having to share a room, and the film is really about their partnership. There is also a Belgian drug dealer, a poofy skinhead, a pregnant hotel owner, and of course their boss. There are lots of lingering shots of the city, and the cannel. There are moments of pure energy and anger, of fun mistakes, and observations about life. I really enjoyed just watching the film, and look forward to seeing it again.


The Alcoves submitted by caburr47 on July 31, 2019, 9:40pm This movie is the epitome of what a dark comedy should be. It makes you laugh, cry, think, be uncomfortable and care for people who are not necessarily good human beings. The dynamic between Colin Farrell and Brendan Gleason is phenomenal.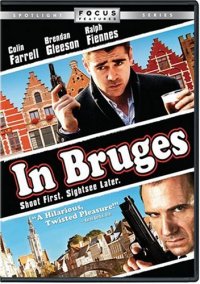 SERIES
Focus Features spotlight series.

PUBLISHED
Universal City, CA : Universal Studios Home Entertainment, c2008.
Year Published: 2008
Description: 1 videodisc (107 min.) : sd., col. ; 4 3/4 in.
Language: English
Format: DVD

ADDITIONAL CREDITS
Broadbent, Graham.
Czernin, Peter.
McDonagh, Martin.
Farrell, Colin.
Gleeson, Brendan, 1964-
Fiennes, Ralph.
Poésy, Clémence.
Renier, Jérémie.
Prentice, Jordan, 1973-
Focus Features.
FilmFour (Firm)
Blueprint Pictures.
Scion Films.
Universal Studios Home Entertainment (Firm)

SUBJECTS
Assassins -- Bruges -- Drama.
Tourists -- Bruges -- Drama.
Criminals -- Bruges -- Drama.
Bruges (Belgium) -- Drama.
Feature films.
Comedy films.
Adventure films.
Fiction films.
Video recordings for the hearing impaired.