Press enter after choosing selection
The Big Chill
DVD - 2014 DVD Drama Big 4 On Shelf No requests on this item Community Rating: 4.5 out of 5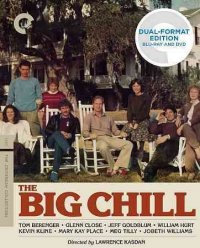 Locations
Call Number: DVD Drama Big
On Shelf At: Downtown Library, Traverwood Branch, Westgate Branch

| Location | Call Number | Branch | Item Status |
| --- | --- | --- | --- |
| Downtown 1st Floor | DVD Drama Big | Downtown Library | On Shelf |
| Downtown 1st Floor | DVD Drama Big | Downtown Library | On Shelf |
| Traverwood Adult A/V | DVD Drama Big | Traverwood Branch | On Shelf |
| Westgate Adult A/V | DVD Drama Big | Westgate Branch | On Shelf |
Special features: New interview with Kasdan; Reunion of cast and crew from the 2013 Toronto International Film Festival, including Kasdan and actors Tom Berenger, Glenn Close, Kevin Kline, Mary Kay Place, Meg Tilly, and JoBeth Williams; deleted scenes; trailer; Plus: a booklet featuring essay by writer and filmmaker Lena Dunhan and a 1983 pice by critic Harlan Jacobson.
Tom Berenger, Glenn Close, Jeff Goldblum, William Hurt, Kevin Kline.
After the shocking suicide of their friend, a group of thirty-somethings reunite for his funeral and end up spending a weekend together, reminiscing about their shared pasts as children of the sixties and confronting the uncertainty of their lives as adults of the eighties.

COMMUNITY REVIEWS
Like baby boomers, it's in love with itself. submitted by lisa on July 29, 2019, 3:04pm Self-congratulatory right down to the soundtrack.

At least it had the sense to cut Kevin Costner out.
At the time submitted by ccrose on August 31, 2019, 7:37pm I wished I had friends who would sing in the kitchen and boogie in the yard. And when I did have such friends, it just seemed dumb.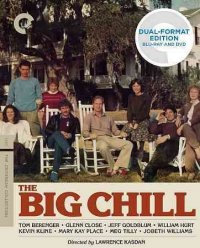 SERIES
Criterion collection
720.

PUBLISHED
[United States] : Columbia Pictures Industries, [2014]
Year Published: 2014
Description: 2 videodiscs (105 min.) : sound, color ; 4 3/4 in.
Language: English
Format: DVD

ADDITIONAL CREDITS
Kasdan, Lawrence, 1949-
Benedek, Barbara,
Berenger, Tom, 1950-
Close, Glenn, 1947-
Goldblum, Jeff, 1952-
Columbia Pictures Corporation,
Carson Productions,
Columbia Pictures Industries,
Criterion Collection (Firm),

SUBJECTS
Suicide -- Drama.
Funeral rites and ceremonies -- Drama.
Reminiscing -- Drama.
Feature films.
Comedy films.
Video recordings for the hearing impaired.