Press enter after choosing selection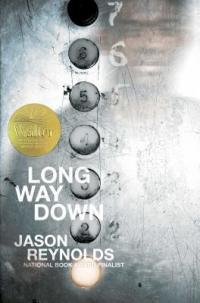 | Location | Call Number | Branch | Item Status |
| --- | --- | --- | --- |
| Downtown Youth Reference | R Newbery Honor 2018 | Downtown Library | In transit |
| Downtown Youth Reference | R Printz Honor 2018 | Downtown Library | In transit |
| Downtown Teen, 1st Floor | Teen Fiction / Reynolds, Jason | Downtown Library | Due 08-13-2019 |
| Downtown Teen, 1st Floor | Teen Fiction / Reynolds, Jason | Downtown Library | Due 08-05-2019 |
| Malletts Teen Books | Teen Book / Fiction / Social Issues / Reynolds, Jason | Malletts Creek Branch | Due 07-22-2019 |
| Malletts Teen Books | Teen Book / Fiction / Social Issues / Reynolds, Jason | Malletts Creek Branch | Due 08-15-2019 |
| Pittsfield Teen | Teen Fiction / Reynolds, Jason | Pittsfield Branch | Due 08-15-2019 |
| Traverwood Teen Books | Teen Fiction / Reynolds, Jason | Traverwood Branch | Due 08-05-2019 |
| Traverwood Teen Books | Teen Fiction / Reynolds, Jason | Traverwood Branch | Due 08-08-2019 |
| Westgate Teen Books | Teen Book / Fiction / Social Issues / Reynolds, Jason | Westgate Branch | Due 08-11-2019 |
"A Caitlyn Dlouhy book."
There are three rules in the neighborhood: Don't cry ; Don't snitch ; Get revenge. Will takes his dead brother Shawn's gun, and gets in the elevator on the 7th floor. As the elevator stops on each floor, someone connected to Shawn gets on. Someone already dead. Dead by teenage gun violence. And each has something to share with Will.

REVIEWS & SUMMARIES
School Library Journal Review
Booklist Review
Publishers Weekly Review
Summary / Annotation
Fiction Profile
Author Notes
COMMUNITY REVIEWS
No community reviews. Write one below!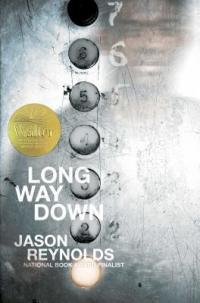 SERIES
Newbery Honor book - 2018.

PUBLISHED
New York : Atheneum, [2017]
Year Published: 2017
Description: 306 pages ; 22 cm
Language: English
Format: Book

ISBN/STANDARD NUMBER
9781481438254

SUBJECTS
Novels in verse.
Murder -- Fiction.
Revenge -- Fiction.
Ghosts -- Fiction.
Brothers -- Fiction.
Conduct of life -- Fiction.
Novels in verse.