Press enter after choosing selection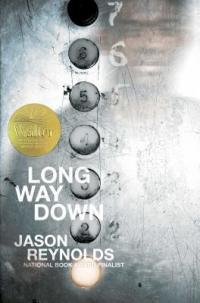 Locations
Call Number: Teen Book / Fiction / Social Issues / Reynolds, Jason, Teen Fiction / Reynolds, Jason
On Shelf At: Pittsfield Branch, Westgate Branch

| Location | Call Number | Branch | Item Status |
| --- | --- | --- | --- |
| Pittsfield Teen Books | Teen Book / Fiction / Social Issues / Reynolds, Jason | Pittsfield Branch | On Shelf |
| Westgate Teen Books | Teen Book / Fiction / Social Issues / Reynolds, Jason | Westgate Branch | Reshelving |
| Westgate Teen Books | Teen Book / Fiction / Social Issues / Reynolds, Jason | Westgate Branch | Due 05-11-2021 |
| Downtown Teen, 1st Floor | Teen Fiction / Reynolds, Jason | Downtown Library | Due 05-08-2021 |
| Malletts Teen Books | Teen Book / Fiction / Social Issues / Reynolds, Jason | Malletts Creek Branch | Due 05-03-2021 |
| Traverwood Teen Books | Teen Book / Fiction / Social Issues / Reynolds, Jason | Traverwood Branch | Due 05-15-2021 |
| Traverwood Teen Books | Teen Book / Fiction / Social Issues / Reynolds, Jason | Traverwood Branch | Due 05-05-2021 |
"A Caitlyn Dlouhy book."
There are three rules in the neighborhood: Don't cry ; Don't snitch ; Get revenge. Will takes his dead brother Shawn's gun, and gets in the elevator on the 7th floor. As the elevator stops on each floor, someone connected to Shawn gets on. Someone already dead. Dead by teenage gun violence. And each has something to share with Will.

REVIEWS & SUMMARIES
School Library Journal Review
Booklist Review
Publishers Weekly Review
Summary / Annotation
Fiction Profile
Author Notes
COMMUNITY REVIEWS
A beautiful, thought-provoking book about gun violence and revenge submitted by TeacherN on July 27, 2019, 11:55am Jason Reynolds is one of the greatest authors of books for young people, and this book doesn't disappoint. A boy's brother has been shot, and as he rides down an elevator, a gun in the waistband of his pants, he is visited by the ghosts of other victims.
Great Book submitted by Sa05k on August 28, 2020, 4:53pm This a great book with a black youth lead. Even though the book mostly takes place in one location, it does not feel drawn out.
Phenomenal submitted by manz on December 30, 2020, 12:05am Be prepared for your heart to fall out of your body as you read this wonderfully crafted and soul-punching book.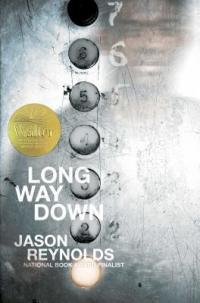 SERIES
Newbery Honor book - 2018.
Printz Honor book - 2018.

PUBLISHED
New York : Atheneum, [2017]
Year Published: 2017
Description: 306 pages ; 22 cm
Language: English
Format: Book

ISBN/STANDARD NUMBER
9781481438254

SUBJECTS
Novels in verse.
Murder -- Fiction.
Revenge -- Fiction.
Ghosts -- Fiction.
Brothers -- Fiction.
Conduct of life -- Fiction.
Novels in verse.