Press enter after choosing selection
Call me by Your Name
DVD - 2018 DVD Drama Call 1 On Shelf No requests on this item Community Rating: 4.1 out of 5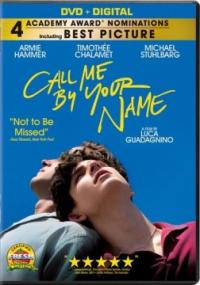 Locations
Call Number: DVD Drama Call
On Shelf At: Downtown Library

Location

& Checkout Length

Call Number
Checkout Length
Item Status
Downtown 1st Floor
1-week checkout
DVD Drama Call
1-week checkout
On Shelf
Downtown 1st Floor
1-week checkout
DVD Drama Call
1-week checkout
Due 03-25-2023
Downtown 1st Floor
1-week checkout
DVD Drama Call
1-week checkout
Due 03-26-2023
Title from web page.
Special features: Snapshots of Italy: the making of Call me by your name; In conversation with Armie Hammer, timothée Chalamet, Michael Stuhlbarg & Luca Guadagnino; commentary with Timothée Chalamet & Michael Stuhlbarg; "Mystery of love" music video by Sufjan Stevens.
Armie Hammer, Timothee Chalamet, Michael Stuhlbarg.
In Northern Italy in 1983, seventeen year old Elio begins a relationship with visiting Oliver, his father's research assistant, with whom he bonds over his emerging sexuality, their Jewish heritage, and the beguiling Italian landscape.
DVD.

COMMUNITY REVIEWS
Good submitted by manz on August 23, 2018, 9:02pm A great film! Worthy of the praise.
Heartbreaking, thought provoking submitted by modestpastry on July 22, 2019, 8:28pm Watching this film is like lazing in bubble bath, it's warm and comforting and languid. Scenes pass by gradually, the tones are warm, beautiful people lounge in an achingly lovely landscape and adore each other in achingly lovely ways. It's an intensely beautiful film, not only for the imagery, but for how it explores sexuality and those first few relationships that make us who we are, that become some of the most important of our lives. Elio, though presumptuous, too smart for his own good, is young in a way that's heart-wrenching and though you root for Oliver to love him, you also question if this love is right.
f submitted by kscapellie on July 11, 2020, 4:34pm lovely landscape
CMBYN DVD submitted by a2sue on July 29, 2021, 7:55am Call me by your name was a refreshingly different DVD to watch. I thought it was just lovely!
Coming-of-age story with compassion submitted by garotagretta on August 25, 2021, 1:38pm This is a beautifully executed story about a sort of coming-of-age romance that could take a seedy turn but the story deftly conveys intensity of feeling without entering uncomfortable territory. It's extremely well-written and well acted. I would highly recommend this film.
I love this film submitted by bcartm01 on June 17, 2022, 11:15pm I love this film almost as much as the book. The actors deserved every award for their work in this film. I love their love story.
beautiful scenery, questionable relationship submitted by umich.reader on June 18, 2022, 6:36pm The set is amazing, but the movie has some questionable relationships and actors.
gorgeous cinematography submitted by zaraz on August 5, 2022, 3:48pm absolutely stunning cinematography and a stellar performance from Timothée Chalamet. however, I agree with umich.reader's review above.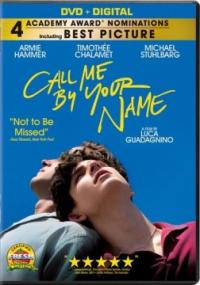 LANGUAGE OPTIONS
Web site indicates: English, French or Spanish dialogue; English French or Spanish subtitles; subtitles for the deaf and hard of hearing (SDH); described video.

PUBLISHED
[Culver City, California] : Columbia Pictures, 2018.
Year Published: 2018
Description: 1 videodisc (approximately 132 min.) : sound, color ; 4 3/4 in.
Language: English
Format: DVD

ADDITIONAL CREDITS
Spears, Peter,
Ivory, James,
Guadagnino, Luca, 1971-
Hammer, Armie, 1986-
Chalamet, Timothée,
Stuhlbarg, Michael,
Sony Pictures Classics (Firm),
Frenesy Film la Cinéfacture,
Columbia Pictures,

SUBJECTS
Gay men -- Italy -- Drama.
Italy -- Drama.
Drama.
Feature films.
Coming-of-age films.
Romance films.
Fiction films.
Video recordings for the hearing impaired.
Video recordings for people with visual disabilities.