Press enter after choosing selection
Call me by Your Name
DVD - 2018 DVD Drama Call 2 On Shelf 11 requests on 5 copies Community Rating: 4.3 out of 5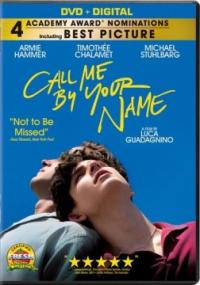 Locations
Call Number: DVD Drama Call
On Shelf At: Downtown Library

| Location | Call Number | Branch | Item Status |
| --- | --- | --- | --- |
| Downtown 1st Floor | DVD Drama Call | Downtown Library | On Shelf |
| Downtown 1st Floor | DVD Drama Call | Downtown Library | On Shelf |
| Downtown 1st Floor | DVD Drama Call | Downtown Library | Due 07-25-2019 |
| Downtown 1st Floor | DVD Drama Call | Downtown Library | Due 07-23-2019 |
| Downtown 1st Floor | DVD Drama Call | Downtown Library | Due 07-23-2019 |
Title from web page.
Special features: Snapshots of Italy: the making of Call me by your name; In conversation with Armie Hammer, timothée Chalamet, Michael Stuhlbarg & Luca Guadagnino; commentary with Timothée Chalamet & Michael Stuhlbarg; "Mystery of love" music video by Sufjan Stevens.
Armie Hammer, Timothee Chalamet, Michael Stuhlbarg.
In Northern Italy in 1983, seventeen year old Elio begins a relationship with visiting Oliver, his father's research assistant, with whom he bonds over his emerging sexuality, their Jewish heritage, and the beguiling Italian landscape.
DVD.

COMMUNITY REVIEWS
Good submitted by manz on August 23, 2018, 9:02pm A great film! Worthy of the praise.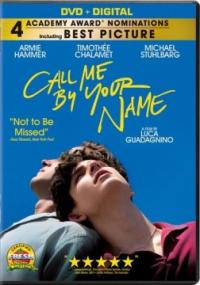 PUBLISHED
[Culver City, California] : Columbia Pictures, 2018.
Year Published: 2018
Description: 1 videodisc (approximately 132 min.) : sound, color ; 4 3/4 in.
Language: English
Format: DVD

ADDITIONAL CREDITS
Spears, Peter,
Ivory, James,
Guadagnino, Luca, 1971-
Hammer, Armie, 1986-
Chalamet, Timothée,
Stuhlbarg, Michael,
Sony Pictures Classics (Firm),
Frenesy Film la Cinéfacture,
Columbia Pictures,

SUBJECTS
Gay men -- Italy -- Drama.
Italy -- Drama.
Drama.
Feature films.
Coming-of-age films.
Romance films.
Fiction films.
Video recordings for the hearing impaired.
Video recordings for people with visual disabilities.