Press enter after choosing selection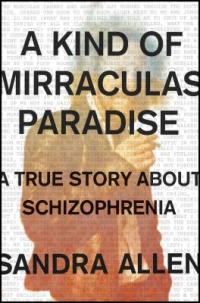 Locations
Call Number: 616.89 Al, Adult Book / Nonfiction / Biography / General / Allen, Bob
On Shelf At: Downtown Library, Malletts Creek Branch

| Location | Call Number | Branch | Item Status |
| --- | --- | --- | --- |
| Downtown 2nd Floor | 616.89 Al | Downtown Library | On Shelf |
| Malletts Adult Books | Adult Book / Nonfiction / Biography / General / Allen, Bob | Malletts Creek Branch | On Shelf |
Genesis -- IM ROBERT -- The way society was -- THE CAGED WINDOW -- A blank -- ::WHEEEEE::: -- You can call it anything -- A LIVING ZOMBIE -- A real shocker -- FAMOUSE -- The right treatment -- GOD HAD ANSWERED -- Three days -- LOUISIANA -- Any other way -- THE FANNZE -- What a shame -- THE SERVICE -- The story of Annadonia -- TABBACO ROAD -- The fifth portrait -- PARADISE.
"Sandra Allen did not know her uncle Bob very well. As a child, she had been told he was "crazy," that he had spent time in mental hospitals while growing up in Berkeley in the 60s and 70s. But Bob had lived a hermetic life in a remote part of California for longer than she had been alive, and what little she knew of him came from rare family reunions or odd, infrequent phone calls. Then in 2009 Bob mailed her his autobiography. Typewritten in all caps, a stream of error-riddled sentences over sixty, single-spaced pages, the often incomprehensible manuscript proclaimed to be a "true story" about being "labeled a psychotic paranoid schizophrenic," and arrived with a plea to help him get his story out to the world. In A Kind of Mirraculas Paradise, Allen translates her uncle's autobiography, artfully creating a gripping coming-of-age story while sticking faithfully to the facts as he shared them..."-- Provided by publisher.

REVIEWS & SUMMARIES
Library Journal Review
Booklist Review
Publishers Weekly Review
Summary / Annotation
Table of Contents
Author Notes
COMMUNITY REVIEWS
No community reviews. Write one below!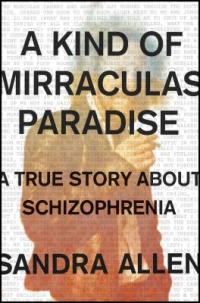 PUBLISHED
New York : Scribner, 2018.
Year Published: 2018
Description: vii, 275 pages ; 24 cm
Language: English
Format: Book

ISBN/STANDARD NUMBER
9781501134036
1501134035

SUBJECTS
Allen, Sandra -- (Nonfiction writer) -- Family.
Schizophrenics -- Biography.
Mentally ill -- United States -- Biography.
Biographies.