Press enter after choosing selection
Flushed Away ; : Chicken run ; Wallace & Gromit, Curse of the Were-Rabbit
DVD - 2014 Youth-DVD Movies Flushed 2 On Shelf 1 request on 2 copies Community Rating: 5 out of 5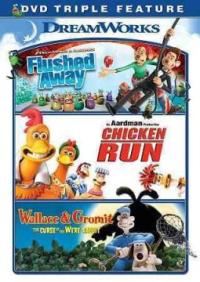 Locations
Call Number: Youth-DVD Movies Flushed
On Shelf At: Downtown Library, Westgate Branch

| Location | Call Number | Branch | Item Status |
| --- | --- | --- | --- |
| Downtown Youth | Youth-DVD Movies Flushed | Downtown Library | On Shelf |
| Westgate Kids A/V | Youth-DVD Movies Flushed | Westgate Branch | On Shelf |
"DVD triple feature"--Container.
Dolby digital 5.1, wide screen 1.85:1.
Flushed away (2006) / written by Dick Clement, Ian La Frenais, Christopher Lloyd, Joe Keenan, William Davies ; directed by David Bowers, Sam Fell -- Chicken run (2000) / written by Karey Kirkpatrick ; directed by Peter Lord, Nick Park -- Curse of the were-rabbit (2005) / written by Steve Box, Nick Park, Mark Burton, Bob Barker ; directed by Steve Box, Nick Park.
Voices: Flushed away: Hugh Jackman, Kate Winslet, Ian McKellen ; Chicken run: Mel Gibson, Julia Sawalha, Phil Daniels ; Curse of the were-rabbit: Peter Sallis, Helena Bonham Carter, Ralph Fiennes.
A high society pet mouse is flushed down the toilet and must learn to adapt to life in the sewers of London; when a flying circus chicken lands in an egg farm, the egg farm chickens have great hopes that he can teach them all to fly, in order to escape; with the annual vegetable growing contest close at hand, Wallace and Gromit must solve the mystery of a garden pest that is sabotaging people's gardens.

COMMUNITY REVIEWS
No community reviews. Write one below!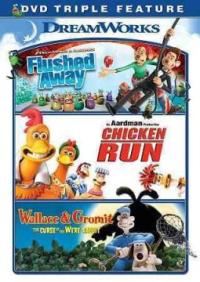 SERIES
Flushed away (Motion picture)

PUBLISHED
Hollywood, California : Paramount, [2014]
Year Published: 2014
Description: 3 videodiscs (254 min.) : sound, color ; 4 3/4 in.
Language: English
Format: DVD

ADDITIONAL CREDITS
Bowers, David (Director)
Lord, Peter, 1953-
Jackman, Hugh,
Gibson, Mel,
Sallis, Peter,

SUBJECTS
Mice -- Drama.
Storm sewers -- Drama.
Chickens -- Drama.
Wallace (Fictitious character) -- Drama.
Gromit (Fictitious character) -- Drama.
Action and adventure films.
Comedy films.
Computer animation films.
Animated films.
Stop-motion animation films.
Clay animation films.
Feature films.