Press enter after choosing selection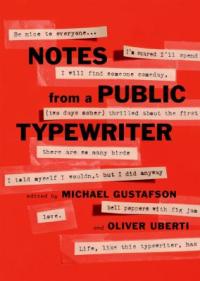 Locations
Call Number: 652.3 Gu, Adult Book / Nonfiction / Literary Arts / Essays / Gustafson, Michael, ed.
On Shelf At: Downtown Library, Malletts Creek Branch, Traverwood Branch, Westgate Branch

| Location | Call Number | Branch | Item Status |
| --- | --- | --- | --- |
| Downtown 2nd Floor | 652.3 Gu | Downtown Library | On Shelf |
| Downtown 2nd Floor | 652.3 Gu | Downtown Library | On Shelf |
| Downtown 2nd Floor | 652.3 Gu | Downtown Library | On Shelf |
| Downtown 2nd Floor | 652.3 Gu | Downtown Library | On Shelf |
| Malletts Adult Books | Adult Book / Nonfiction / Literary Arts / Essays / Gustafson, Michael, ed. | Malletts Creek Branch | On Shelf |
| Malletts Adult Books | Adult Book / Nonfiction / Literary Arts / Essays / Gustafson, Michael, ed. | Malletts Creek Branch | Due 07-29-2020 |
| Traverwood Adult Books | Adult Book / Nonfiction / Literary Arts / Essays / Gustafson, Michael, ed. | Traverwood Branch | On Shelf |
| Westgate Adult Books | Adult Book / Nonfiction / Literary Arts / Essays / Gustafson, Michael, ed. | Westgate Branch | On Shelf |
| Westgate Adult Books | Adult Book / Nonfiction / Literary Arts / Essays / Gustafson, Michael, ed. | Westgate Branch | Due 07-29-2020 |
| Pittsfield Adult Books | 652.3 Gu | Pittsfield Branch | Due 07-20-2020 |
REVIEWS & SUMMARIES
Summary / Annotation
Author Notes
COMMUNITY REVIEWS
Local love submitted by manz on July 12, 2018, 4:04pm A really cool little book. If you're familiar with Literati and are intrigued by the typewriter -- this book shares the story on this bit of community love.
So sweet and lovingly produced submitted by lexinylander on August 10, 2018, 6:02pm "I lock the door. I turn out the lights. I check every corner, stairwell, closet, and bathroom. I say goodnight to the books."

My favorites:

I wrote a letter to Santa so he doesn't think we only talk to him when we want something.

cool air, long walk. warm hand.

Life insists that we endure

I am always wondering,
"Will there be lesbians?"
More often than not,
The answer is a disappointing, "No."

there are so many birds
One for the Locals submitted by dntanzer on August 21, 2018, 1:14pm This is a cute little book published by one of the owner's of Literati, a bookstore in downtown Ann Arbor. It has a few pages where Mike, the owner, writes about Literati, Ann Arbor, and some of the people he's met here. In between those stories, he shares a mix of quotes left on the public typewriter in Literati's basement and relevant photos. It's cute and definitely nostalgic for Ann Arbor locals! Also a very quick read.
A great part of Ann Arbor submitted by kassafrass on July 13, 2019, 9:42am I've only lived here for a little while, but this book still captured a lot of what Ann Arbor means for me. It has the lovely voice of the people who live here. I'll probably take a copy with me when I move someday as a reminder.
Local Ann Arbor book submitted by kerstinrh on July 24, 2019, 12:51pm This book is a fun quick read of things people wrote on a public type writer that sat out in the Literati bookstore in Ann Arbor. Interesting to see what people have to say. Easy and fun to read peoples thoughts.
Ann Arbor read submitted by crp on August 10, 2019, 4:09pm An interesting psychological portrayal of the town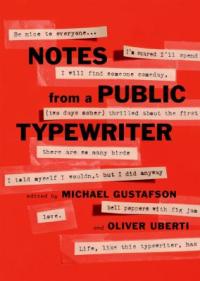 PUBLISHED
New York, NY : Grand Central Publishing, 2018.
Year Published: 2018
Description: 159 pages : illustrations (chiefly color) ; 19 cm
Language: English
Format: Book

ISBN/STANDARD NUMBER
9781538729113
1538729113

ADDITIONAL CREDITS
Gustafson, Michael, (Bookstore proprietor)
Uberti, Oliver,

SUBJECTS
Literati Bookstore.
Bookstores -- Ann Arbor.
Typewriting -- Ann Arbor.