Press enter after choosing selection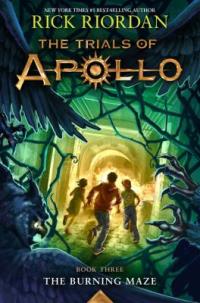 | Location | Call Number | Branch | Item Status |
| --- | --- | --- | --- |
| Downtown Kids Books | Y Fiction / Riordan, Rick | Downtown Library | Due 07-01-2020 |
| Downtown Kids Books | Y Fiction / Riordan, Rick | Downtown Library | Due 07-01-2020 |
| Downtown Kids Books | Y Fiction / Riordan, Rick | Downtown Library | Due 07-01-2020 |
| Malletts Kids Books | Kids Book / Fiction / Fantasy & Myth / Trials of Apollo 3 | Malletts Creek Branch | Due 07-01-2020 |
| Pittsfield Kids Books | Kids Book / Fiction / Fantasy & Myth / Trials of Apollo 3 | Pittsfield Branch | Due 07-01-2020 |
| Traverwood Kids Books | Y Fiction / Riordan, Rick | Traverwood Branch | Due 07-01-2020 |
| Westgate Kids Books | Kids Book / Fiction / Fantasy & Myth / Trials of Apollo 3 | Westgate Branch | Due 07-01-2020 |
The Greek god Apollo, cast down to earth as the ungifted human teenager Lester Papadopoulos, and his demigod friends must go through the Labyrinth to find the third emperor--and an Oracle who speaks in word puzzles--somewhere in the American Southwest.

REVIEWS & SUMMARIES
Booklist Review
Summary / Annotation
Fiction Profile
Author Notes
COMMUNITY REVIEWS
Definitely some unexpected twists submitted by freopt on June 21, 2018, 4:25pm I think the book was a little dragged out, but it opened up for books 4 and 5. It's a good book, but in general was a bit darker than most of Riordan's other books. There is a main character death that when I was reading it it was like, "wait WHAT?!, ummm, now what?" I'm not sure if the character will stay dead but either way just WOW.
Great book submitted by Satvika on July 4, 2019, 8:45pm This is a great book to read. Rick Riordan has done a great job doing what needs to be done (even though you sometimes almost cry), and I love this book!
Amazing! submitted by Tejasvi Ramanathan on July 4, 2019, 8:59pm This is a really great book. It has humor, plot, and has some super sad parts! Can't wait for next book.
Great book (and author) but a couple of problems... submitted by archuancha on July 9, 2019, 4:25pm Reading Rick Riordan books was how I got so interested in mythology. These books are amazing. Heroes of Olympus was not my favorite series, but the 3rd series of Percy Jackson The Trials of Apollo was so much better. I love how Riordan includes the 7 half-bloods from the last series. The book has lot's of violence but is quite exciting. There is loads of humour which you see in a lot of Riordan's writing. There was a problem with this book though. In the last series, Rick Riordan made a character die, (I won't say who because of spoilers) but Piper brought him back to life using her voice. In this book he dies again, Piper is there at that time too, but for some reason her voice doesn't save him again. I guess I was sort of summing up Rick Riordan's writing instead of the book and I don't want to criticize such a fantastic author, but I feel like Rick Riordan writes a lot of details but doesn't make them all connect in a way you never would have expected them too, like in books by J.K. Rowling of Agatha Christie. BUT DO NOT GET ME WRONG . HE IS A GREAT AUTHOR.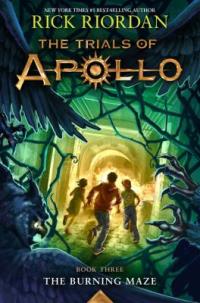 SERIES
Trials of Apollo
3

PUBLISHED
Los Angeles : Disney-Hyperion, 2018.
Year Published: 2018
Description: 431 pages ; 22 cm.
Language: English
Format: Book

ISBN/STANDARD NUMBER
9781484746431
1484746430

SUBJECTS
Apollo -- (Deity) -- Fiction.
Oracles -- Fiction.
Mythology, Greek -- Fiction.
Gods, Greek -- Fiction.
Apollo (Greek deity) -- Fiction.
Fantasy.