Press enter after choosing selection
Breaking in
DVD - 2018 DVD Action Breaking 10 On Shelf 3 requests on 16 copies Community Rating: 3.7 out of 5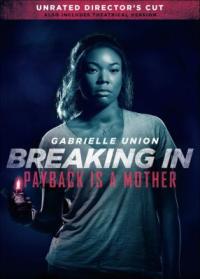 Locations
Call Number: DVD Action Breaking
On Shelf At: Downtown Library, Malletts Creek Branch, Pittsfield Branch, Traverwood Branch, Westgate Branch

| Location | Call Number | Branch | Item Status |
| --- | --- | --- | --- |
| Downtown 1st Floor | Express Shelf DVD Action Breaking | Downtown Library | On Shelf |
| Downtown 1st Floor | DVD Action Breaking | Downtown Library | On Shelf |
| Downtown 1st Floor | DVD Action Breaking | Downtown Library | On Shelf |
| Downtown 1st Floor | DVD Action Breaking | Downtown Library | On Shelf |
| Downtown 1st Floor | DVD Action Breaking | Downtown Library | Due 02-22-2019 |
| Malletts Adult | DVD Action Breaking | Malletts Creek Branch | On Shelf |
| Malletts Adult | DVD Action Breaking | Malletts Creek Branch | Due 02-20-2019 |
| Pittsfield Adult | DVD Action Breaking | Pittsfield Branch | On Shelf |
| Pittsfield Adult | DVD Action Breaking | Pittsfield Branch | On Shelf |
| Pittsfield Adult | Express Shelf DVD Action Breaking | Pittsfield Branch | On Shelf |
| Traverwood Adult | DVD Action Breaking | Traverwood Branch | On Shelf |
| Traverwood Adult | DVD Action Breaking | Traverwood Branch | Due 02-22-2019 |
| Westgate Adult A/V | DVD Action Breaking | Westgate Branch | On Shelf |
| Westgate Adult A/V | DVD Action Breaking | Westgate Branch | Due 02-20-2019 |
| Malletts Adult | Express Shelf DVD Action Breaking | Malletts Creek Branch | Due 01-31-2019 |
| Traverwood Adult | Express Shelf DVD Action Breaking | Traverwood Branch | Due 02-23-2019 |
Anamorphic wide screen (2.39:1).
Bonus features: alternative opening--The gas station with commentary by director James McTeigue and scriptwriter Ryan Engle; One bad mother ...; A lesson in kicking ass; deleted/extended scenes; A hero evolved; A filmmaker's eye: James McTeigue; feature commentary with director James McTeigue & scriptwriter Ryan Engle.
Gabrielle Union, Billy Burke, Richard Cabral, Ajiona Alexus, Levi Meaden, Mark Furze, Jason George, Christa Miller.
A woman fights to protect her family during a home invasion.
DVD; Dolby digital 5.1, DVS 2.0; region 1; NTSC.

COMMUNITY REVIEWS
Worthy if Watching submitted by lstorc on August 10, 2018, 11:13am This was a decent film. It had good pacing, and unexpected moments.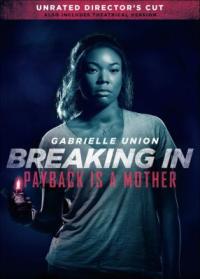 SERIES
Breaking in (Motion picture)

PUBLISHED
Universal City, CA : Universal Pictures Home Entertainment, [2018]
Year Published: 2018
Description: 1 videodisc (89 min.) : sound, color ; 4 3/4 in.
Language: English
Format: DVD

ADDITIONAL CREDITS
McTeigue, James,
Union, Gabrielle,
Burke, Billy,
Cabral, Richard,
Alexus, Ajiona,
Universal Pictures Home Entertainment (Firm),

SUBJECTS
Home invasion -- Drama.
Feature films.
Action and adventure films.
Crime films.
Fiction films.
Video recordings for the hearing impaired.
Video recordings for people with visual disabilities.