Press enter after choosing selection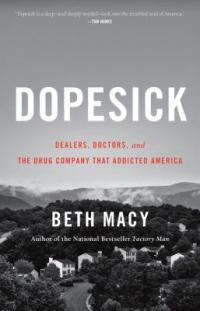 Locations
Call Number: 362.29 Ma, Adult Book / Nonfiction / Social Science / General / Macy, Beth
On Shelf At: Downtown Library, Traverwood Branch

Location

& Checkout Length

Call Number
Checkout Length
Item Status
Downtown 2nd Floor
4-week checkout
362.29 Ma
4-week checkout
On Shelf
Downtown 2nd Floor
4-week checkout
362.29 Ma
4-week checkout
On Shelf
Downtown 2nd Floor
4-week checkout
362.29 Ma
4-week checkout
Due 04-06-2023
Traverwood Adult Books
4-week checkout
Adult Book / Nonfiction / Social Science / General / Macy, Beth
4-week checkout
On Shelf
Malletts Adult Books
4-week checkout
Adult Book / Nonfiction / Social Science / General / Macy, Beth
4-week checkout
Due 04-17-2023
Westgate Adult Books
4-week checkout
Adult Book / Nonfiction / Social Science / General / Macy, Beth
4-week checkout
Due 04-13-2023
Part one: The People v. Purdue. The United States of Amnesia -- Swag 'n' Dash -- Message board memorial -- "The corporation feels no pain." Part two: Objects in mirror are closer than they appear. Suburban sprawl -- "Like shooting Jesus" -- FUBI -- "Shit don't stop." Part three: "A broken system." Whac-a-mole -- Liminality -- Hope on a spreadsheet -- "Brother, wrong or right" -- Outcasts and inroads. Epilogue: Soldier's Disease.
Chronicles America's more than twenty-year struggle with opioid addiction, from the introduction of OxyContin in 1996, through the spread of addiction in distressed communities in Central Appalachia, to the current national crisis.

REVIEWS & SUMMARIES
Library Journal Review
CHOICE Review
Booklist Review
Publishers Weekly Review
Summary / Annotation
Table of Contents
Fiction Profile
Author Notes
COMMUNITY REVIEWS
A Must Read submitted by Beth Manuel on August 28, 2018, 7:09pm This book takes you to ground zero of how, why and where the opioid crisis began in the United States. Not surprisingly, it was borne out of greed on the part of the drug company, Purdue Pharma. The ties this drug company has to our current government is unsettling. The stories of families being broken forever due to this wretched scourge of a drug are heartbreaking. After reading this, it all made sense: the number of people I know who have lost children due to opioid addiction was due to Oxycontin being over-prescribed and highly addictive.
An Eye Opener for sure submitted by tbbrown76 on June 20, 2020, 9:52pm I had little clue what the drug issues are in modern America or how we got here. This book explains it clearly and in depth. You may have a different view of Big Pharma after reading this book. I do.
Highly recommended for everyone.
TB
Important submitted by blancharddana on June 29, 2022, 8:30am A must-read for anyone interested in understanding the opioid epidemic and how we got here.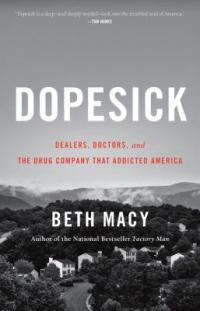 PUBLISHED
New York : Little, Brown and Company, 2018.
Year Published: 2018
Description: 376 pages, 8 unnumbered pages of plates : illustrations ; 25 cm
Language: English
Format: Book

ISBN/STANDARD NUMBER
9780316551243
0316551244

SUBJECTS
Opioid abuse.
Medication abuse.
Oxycodone.
Oxycodone abuse.