Press enter after choosing selection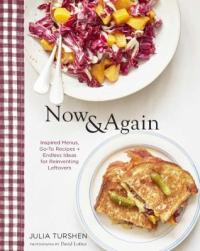 Locations
Call Number: Adult Book / Nonfiction / Cooking / General / Turshen, Julia, 641.5 Tu
On Shelf At: Malletts Creek Branch, Pittsfield Branch

Location

& Checkout Length

Call Number
Checkout Length
Item Status
Malletts Adult Books
4-week checkout
Adult Book / Nonfiction / Cooking / General / Turshen, Julia
4-week checkout
On Shelf
Pittsfield Adult Books
4-week checkout
Adult Book / Nonfiction / Cooking / General / Turshen, Julia
4-week checkout
On Shelf
Downtown 2nd Floor
4-week checkout
641.5 Tu
4-week checkout
Due 12-14-2023
Traverwood Adult Books
4-week checkout
Adult Book / Nonfiction / Cooking / General / Turshen, Julia
4-week checkout
Due 12-16-2023
Includes index.
Autumn. Sunday morning Bangladeshi breakfast ; Red-checked tablecloth late Saturday lunch ; Card night enchiladas ; Rosh Hashanah dinner ; No stress Thanksgiving -- Winter. Brunch for a crowd ; Chili + cornbread lunch ; Steak house dinner for vegetarians ; Feast of the almost seven fishes ; A not-kosher Jewish Christmas -- Spring. Easy all-green lunch ; Grace's birthday late lunch ; Passover seder ; Tortilla soup for a chilly spring evening ; Just my type of dinner -- Summer. Grilled vegetable breakfast ; Simple backpack picnic lunch ; Afternoon tacos ; Fourth of July ; Middle Eastern dinner outside -- Seven lists -- Recipes by type -- Even more menu suggestions -- A few notes on tools + ingredients -- Give back + do good.
Now & Again includes 20 menus and more than 150 recipes for crave-worthy dishes such as meatloaf, enchiladas, roast chicken with sweet potatoes, vanilla semifreddo with honeyed strawberries, and double-baked potatoes with horseradish and cheddar. Throughout the book, the author's 'It's Me Again' mini-recipes transform leftovers into new, delicious recipes. -- Adapted from book cover.

REVIEWS & SUMMARIES
Library Journal Review
Summary / Annotation
Table of Contents
Author Notes
COMMUNITY REVIEWS
Good submitted by dntanzer on August 29, 2019, 7:53am This is a pretty solid cookbook with some good recipes to try.
Good ideas for minimizing food waste submitted by keebs23 on June 20, 2022, 12:35pm The author's recipes are easy and flavorful, but this book's killer feature are the ideas provided for repurposing any leftovers for future meals.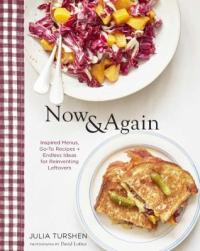 PUBLISHED
San Francisco : Chronicle Books, [2018]
Year Published: 2018
Description: 303 pages : color illustrations ; 26 cm
Language: English
Format: Book

ISBN/STANDARD NUMBER
9781452164922
1452164924

ADDITIONAL CREDITS
Loftus, David,

SUBJECTS
Cooking.
Cooking (Leftovers)