Press enter after choosing selection
Crazy Rich Asians
DVD - 2018 DVD Comedy Crazy 13 On Shelf 19 requests on 38 copies Community Rating: 3.8 out of 5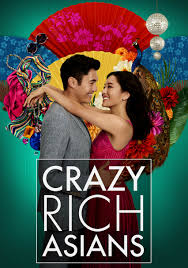 Locations
Call Number: DVD Comedy Crazy
On Shelf At: Downtown Library, Malletts Creek Branch, Pittsfield Branch, Traverwood Branch, Westgate Branch

| Location | Call Number | Branch | Item Status |
| --- | --- | --- | --- |
| Downtown 1st Floor | DVD Comedy Crazy | Downtown Library | On Shelf |
| Downtown 1st Floor | DVD Comedy Crazy | Downtown Library | On Shelf |
| Downtown 1st Floor | DVD Comedy Crazy | Downtown Library | On Shelf |
| Downtown 1st Floor | DVD Comedy Crazy | Downtown Library | On Shelf |
| Downtown 1st Floor | DVD Comedy Crazy | Downtown Library | On Shelf |
| Downtown 1st Floor | DVD Comedy Crazy | Downtown Library | Due 06-21-2019 |
| Downtown 1st Floor | DVD Comedy Crazy | Downtown Library | Due 06-19-2019 |
| Malletts Adult A/V | DVD Comedy Crazy | Malletts Creek Branch | On Shelf |
| Malletts Adult A/V | DVD Comedy Crazy | Malletts Creek Branch | Due 06-21-2019 |
| Pittsfield Adult | DVD Comedy Crazy | Pittsfield Branch | On Hold Shelf |
| Pittsfield Adult | DVD Comedy Crazy | Pittsfield Branch | Due 06-23-2019 |
| Pittsfield Adult | DVD Comedy Crazy | Pittsfield Branch | Due 06-22-2019 |
| Pittsfield Adult | Express Shelf DVD Comedy Crazy | Pittsfield Branch | On Shelf |
| Pittsfield Adult | Express Shelf DVD Comedy Crazy | Pittsfield Branch | On Shelf |
| Pittsfield Adult | Express Shelf DVD Comedy Crazy | Pittsfield Branch | Due 06-20-2019 |
| Pittsfield Adult | Express Shelf DVD Comedy Crazy | Pittsfield Branch | Due 06-20-2019 |
| Traverwood Adult | DVD Comedy Crazy | Traverwood Branch | On Shelf |
| Traverwood Adult | DVD Comedy Crazy | Traverwood Branch | On Hold Shelf |
| Traverwood Adult | DVD Comedy Crazy | Traverwood Branch | Due 06-22-2019 |
| Traverwood Adult | Express Shelf DVD Comedy Crazy | Traverwood Branch | On Shelf |
| Traverwood Adult | Express Shelf DVD Comedy Crazy | Traverwood Branch | Due 06-21-2019 |
| Traverwood Adult | Express Shelf DVD Comedy Crazy | Traverwood Branch | Due 06-17-2019 |
| Westgate Adult A/V | Express Shelf DVD Comedy Crazy | Westgate Branch | On Shelf |
| Westgate Adult A/V | Express Shelf DVD Comedy Crazy | Westgate Branch | Due 06-21-2019 |
| Westgate Adult A/V | Express Shelf DVD Comedy Crazy | Westgate Branch | Due 06-20-2019 |
| Westgate Adult A/V | Express Shelf DVD Comedy Crazy | Westgate Branch | Due 06-20-2019 |
| Westgate Adult A/V | Express Shelf DVD Comedy Crazy | Westgate Branch | Due 06-21-2019 |
| Westgate Adult A/V | DVD Comedy Crazy | Westgate Branch | On Shelf |
| Westgate Adult A/V | DVD Comedy Crazy | Westgate Branch | On Shelf |
| Westgate Adult A/V | DVD Comedy Crazy | Westgate Branch | Due 06-22-2019 |
| Westgate Adult A/V | DVD Comedy Crazy | Westgate Branch | Due 06-23-2019 |
| Westgate Adult A/V | DVD Comedy Crazy | Westgate Branch | Due 06-23-2019 |
| Westgate Adult A/V | DVD Comedy Crazy | Westgate Branch | Due 06-18-2019 |
| Downtown 1st Floor | Express Shelf DVD Comedy Crazy | Downtown Library | Due 06-24-2019 |
| Downtown 1st Floor | Express Shelf DVD Comedy Crazy | Downtown Library | Due 06-23-2019 |
| Downtown 1st Floor | Express Shelf DVD Comedy Crazy | Downtown Library | Due 06-22-2019 |
| Malletts Adult A/V | Express Shelf DVD Comedy Crazy | Malletts Creek Branch | Due 06-25-2019 |
| Malletts Adult A/V | Express Shelf DVD Comedy Crazy | Malletts Creek Branch | Due 06-24-2019 |
Title from web page.
Originally released as a motion picture in 2018.
Wide screen (2.39).
Special features: Crazy rich fun.
Constance Wu, Gemma Chan, Lisa Lu, Awkwafina, Ken Jeong, Michelle Yeoh.
A native New Yorker Rachel Chu accompanies her longtime boyfriend, Nick Young, to his best friend's wedding in Singapore. Excited about visiting Asia for the first time but nervous about meeting Nick's family, Rachel is unprepared to learn that Nick has neglected to mention a few key details about his life. It turns out that he is not only the scion of one of the country's wealthiest families but also one of its most sought-after bachelors.
DVD, region 1, wide screen; Dolby digital 5.1 surround, descriptive audio 5.1.

COMMUNITY REVIEWS
Very Sweet submitted by majean on December 23, 2018, 8:20pm A really fun and sweet romantic comedy. Highly recommend.
Very Entertaining except for the idiotic 'romantic comedy' aspect. submitted by Tassos on January 22, 2019, 8:11am This movie is far, far more and infinitely BETTER than the 'romantic comedy' the other reviewer here mischaracterizes it as. Romantic Comedies are dumb porn, this is very educational, esp for people not familiar with the locales and the protagonists. I had a blast seeing it, and I cannot STAND so-called "romantic non-comedies". Unlike them this one can be REALLY Funny, but also quite serious too.
Interesting submitted by avrogers1 on June 16, 2019, 3:48pm I think interesting is the correct word. I didn't LOVE it, but I didn't dislike it either. I'll admit it had its funny moments that made me chuckle, and it held my attention until the end. However, its not something I would purposely watch again.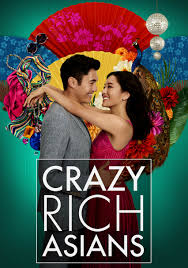 SERIES
Crazy rich Asians (Motion picture)

PUBLISHED
Burbank, CA : Warner Bros. Home Entertainment, [2018]
Year Published: 2018
Description: 1 videodisc (120 min.) : sound, color ; 4 3/4 in.
Language: English
Format: DVD

ADDITIONAL CREDITS
Jacobson, Nina,
Simpson, Brad, 1973-
Penotti, John,
Chiarelli, Peter,
Lim, Adele,
Chu, Jon M. 1979-
Wu, Constance, 1982-
Chan, Gemma, 1982-
Lu, Lisa,
Awkwafina, 1989-
Warner Bros. Home Entertainment (Firm),
Warner Bros. Pictures (1969- ),

SUBJECTS
Fiancés -- Drama.
Fiancées -- Drama.
Americans -- Singapore -- Drama.
Rich people -- Drama.
Social conflict -- Drama.