Press enter after choosing selection
Crazy Rich Asians
DVD - 2018 DVD Comedy Crazy 4 On Shelf 1 request on 9 copies Community Rating: 4 out of 5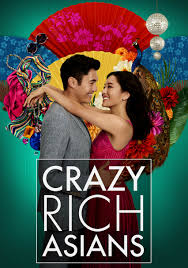 Locations
Call Number: DVD Comedy Crazy
On Shelf At: Downtown Library, Traverwood Branch, Westgate Branch

Location

& Checkout Length

Call Number
Checkout Length
Item Status
Downtown 1st Floor
1-week checkout
DVD Comedy Crazy
1-week checkout
On Shelf
Downtown 1st Floor
1-week checkout
DVD Comedy Crazy
1-week checkout
On Hold Shelf
Downtown 1st Floor
1-week checkout
DVD Comedy Crazy
1-week checkout
Due 03-19-2023
Traverwood Adult A/V
1-week checkout
DVD Comedy Crazy
1-week checkout
On Shelf
Westgate Adult A/V
1-week checkout
DVD Comedy Crazy
1-week checkout
On Shelf
Westgate Adult A/V
1-week checkout
DVD Comedy Crazy
1-week checkout
On Shelf
Westgate Adult A/V
1-week checkout
DVD Comedy Crazy
1-week checkout
Due 03-26-2023
Malletts Adult A/V
1-week checkout
DVD Comedy Crazy
1-week checkout
Due 03-27-2023
Pittsfield Adult A/V
1-week checkout
DVD Comedy Crazy
1-week checkout
Due 03-27-2023
Title from web page.
Originally released as a motion picture in 2018.
Wide screen (2.39).
Special features: Crazy rich fun.
Constance Wu, Gemma Chan, Lisa Lu, Awkwafina, Ken Jeong, Michelle Yeoh.
A native New Yorker Rachel Chu accompanies her longtime boyfriend, Nick Young, to his best friend's wedding in Singapore. Excited about visiting Asia for the first time but nervous about meeting Nick's family, Rachel is unprepared to learn that Nick has neglected to mention a few key details about his life. It turns out that he is not only the scion of one of the country's wealthiest families but also one of its most sought-after bachelors.
DVD, region 1, wide screen; Dolby digital 5.1 surround, descriptive audio 5.1.

COMMUNITY REVIEWS
Very Sweet submitted by majean on December 23, 2018, 8:20pm A really fun and sweet romantic comedy. Highly recommend.
Very Entertaining except for the idiotic 'romantic comedy' aspect. submitted by Tassos on January 22, 2019, 8:11am This movie is far, far more and infinitely BETTER than the 'romantic comedy' the other reviewer here mischaracterizes it as. Romantic Comedies are dumb porn, this is very educational, esp for people not familiar with the locales and the protagonists. I had a blast seeing it, and I cannot STAND so-called "romantic non-comedies". Unlike them this one can be REALLY Funny, but also quite serious too.
Interesting submitted by avrogers1 on June 16, 2019, 3:48pm I think interesting is the correct word. I didn't LOVE it, but I didn't dislike it either. I'll admit it had its funny moments that made me chuckle, and it held my attention until the end. However, its not something I would purposely watch again.
Very Cute submitted by patpatel3025 on June 30, 2019, 10:32am Loved this movie. It actually inspired my honeymoon because my husband wanted to try all the food places.
Huh?? submitted by bookher on July 8, 2019, 4:01pm So, I kept waiting for this movie to get good but it never did. Absolutely stupid plot with a couple entertaining characters. I just do not understand all the hype around this movie. Yes, it had an entirely Asian cast but I don't think ethnicity alone can make a good movie.
Okay submitted by zmclaugh on July 12, 2019, 9:28pm Some strange changes from the book and unfortunately no real indications that the story takes place in Singapore. Disappointing.
Interesting Viewpoint submitted by moola on July 13, 2019, 6:02am it was interesting....
Funny and Entertaining submitted by gracekil on July 31, 2019, 1:04pm I found this movie to be funny and entertaining. It's inspiring that it was created by and starring Asians, who get so little representation otherwise. The storytelling is interesting.
Chick flick submitted by valentina on August 4, 2019, 7:59am Very plain chick flick. I don't understand all the fuss about it.
Visual impact submitted by ccrose on August 9, 2019, 8:22am I lost my focus on the story and the actors because the 'clutter' of sets, costumes. It was like eating way too many pieces of wedding cake.
Fun watch! submitted by crp on August 12, 2019, 8:44pm It's been too long since an Asian rom com came out- this one does not disappoint!
Cute submitted by mshivaprasad on July 22, 2020, 3:36pm This rom com is just so good you shouldn't miss it!
Crazy Rich Asians submitted by lstorc on July 8, 2022, 10:05am Crazy Rich Asians has fantastic costumes and scenery. It is mainly entertainment for the sake of entertainment.
a little different from the book submitted by jwpark on August 7, 2022, 1:48am I watched this before I read the book. After reading the book, I realized that the movie is a little different. The movie includes some of the same elements and events but I feel like it also excludes a couple of things.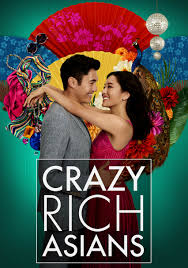 SERIES
Crazy rich Asians (Motion picture)
Crazy rich Asians (Motion picture).
Crazy rich Asians (Motion picture).

LANGUAGE OPTIONS
English, French or Spanish dialogue; English, French or Spanish subtitles; subtitled for the deaf and hard of hearing (SDH); described video.

PUBLISHED
Burbank, CA : Warner Bros. Home Entertainment, [2018]
Year Published: 2018
Description: 1 videodisc (120 min.) : sound, color ; 4 3/4 in.
Language: English
Format: DVD

ADDITIONAL CREDITS
Jacobson, Nina,
Simpson, Brad, 1973-
Penotti, John,
Chiarelli, Peter,
Lim, Adele,
Chu, Jon M. 1979-
Wu, Constance, 1982-
Chan, Gemma, 1982-
Lu, Lisa,
Awkwafina, 1989-
Warner Bros. Home Entertainment (Firm),
Warner Bros. Pictures (1969- ),

SUBJECTS
Fiancés -- Drama.
Fiancées -- Drama.
Americans -- Singapore -- Drama.
Rich people -- Drama.
Social conflict -- Drama.