Press enter after choosing selection
The Boys in the Cave : : Deep Inside the Impossible Rescue in Thailand
Gutman, Matt, 1977- Book - 2018 921 Gutman, Matt 1 On Shelf No requests on this item Community Rating: 4 out of 5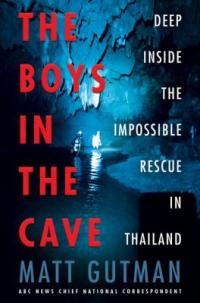 Locations
Call Number: 921 Gutman, Matt
On Shelf At: Downtown Library

Location

& Checkout Length

Call Number
Checkout Length
Item Status
Downtown 2nd Floor
4-week checkout
921 Gutman, Matt
4-week checkout
On Shelf
part 1: The Moo Pa -- Some Birthday -- "How can I sleep when my son is inside?" -- Retreat -- "You have one last chance, or the boys will die" -- The Foreigners -- The Shadow Quartet -- Jungle Bash -- Contact -- part 2: Suicide Mission -- The Zero-Risk Option -- Letters Home -- The Wet Mulles -- Sticking Your Neck Out -- Getting the Green Light? -- D-Day -- Like an Egg in a Rock -- A Few Shots of Ketamine -- The Complacency Gap -- Lost -- "Life Celebration Party."
From award-winning ABC News Chief National Correspondent Matt Gutman, and written using exclusive interviews and information comes the definitive account of the dramatic story that gripped the world: the miracle rescue of twelve boys and their soccer coach trapped in a flooded cave miles underground for nearly three weeks. Gutman recounts this amazing story in depth and from every angle, exploring their time in the cave, the failed plans and human mistakes that nearly doomed them, and the daring mission that ultimately saved them.

REVIEWS & SUMMARIES
Summary / Annotation
COMMUNITY REVIEWS
No community reviews. Write one below!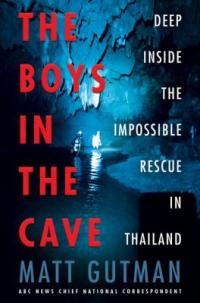 PUBLISHED
New York : William Morrow, [2018]
Year Published: 2018
Description: 307 pages, 16 unnumbered pages of plates ; color illustrations, maps : 24 cm
Language: English
Format: Book

ISBN/STANDARD NUMBER
9780062909916
0062909916

SUBJECTS
Caving -- Search and rescue operations -- Thailand.
Soccer players -- Thailand.
Soccer coaches -- Thailand.