Press enter after choosing selection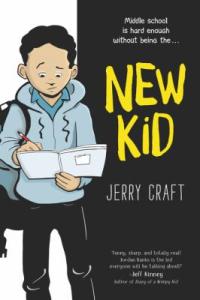 Locations
Call Number: R Newberry Medal 2020, Youth Graphic Novel / Craft, Jerry, Kids Book / Comics & Graphic Novels / General / Craft, Jerry
On Shelf At: Downtown Library, Pittsfield Branch, Traverwood Branch, Westgate Branch

Location

& Checkout Length

Call Number
Checkout Length
Item Status
Downtown Kids Reference
0-week checkout
R Newberry Medal 2020
0-week checkout
Library Use Only
Downtown Kids Books
4-week checkout
Youth Graphic Novel / Craft, Jerry
4-week checkout
On Shelf
Downtown Kids Books
4-week checkout
Youth Graphic Novel / Craft, Jerry
4-week checkout
Reshelving
Downtown Kids Books
4-week checkout
Youth Graphic Novel / Craft, Jerry
4-week checkout
On Shelf
Downtown Kids Books
4-week checkout
Youth Graphic Novel / Craft, Jerry
4-week checkout
On Shelf
Downtown Kids Books
4-week checkout
Youth Graphic Novel / Craft, Jerry
4-week checkout
Due 05-02-2023
Downtown Kids Books
4-week checkout
Youth Graphic Novel / Craft, Jerry
4-week checkout
Due 06-18-2023
Downtown Kids Books
4-week checkout
Youth Graphic Novel / Craft, Jerry
4-week checkout
Due 06-21-2023
Downtown Kids Books
4-week checkout
Youth Graphic Novel / Craft, Jerry
4-week checkout
Due 06-08-2023
Downtown Kids Books
4-week checkout
Youth Graphic Novel / Craft, Jerry
4-week checkout
Due 06-27-2023
Pittsfield Kids Books
4-week checkout
Kids Book / Comics & Graphic Novels / General / Craft, Jerry
4-week checkout
On Shelf
Pittsfield Kids Books
4-week checkout
Kids Book / Comics & Graphic Novels / General / Craft, Jerry
4-week checkout
On Shelf
Pittsfield Kids Books
4-week checkout
Kids Book / Comics & Graphic Novels / General / Craft, Jerry
4-week checkout
Due 06-05-2023
Traverwood Kids Books
4-week checkout
Kids Book / Comics & Graphic Novels / General / Craft, Jerry
4-week checkout
On Shelf
Traverwood Kids Books
4-week checkout
Kids Book / Comics & Graphic Novels / General / Craft, Jerry
4-week checkout
Due 06-09-2023
Traverwood Kids Books
4-week checkout
Kids Book / Comics & Graphic Novels / General / Craft, Jerry
4-week checkout
Due 06-16-2023
Traverwood Kids Books
4-week checkout
Kids Book / Comics & Graphic Novels / General / Craft, Jerry
4-week checkout
Due 06-13-2023
Westgate Kids Books
4-week checkout
Kids Book / Comics & Graphic Novels / General / Craft, Jerry
4-week checkout
In transit
Westgate Kids Books
4-week checkout
Kids Book / Comics & Graphic Novels / General / Craft, Jerry
4-week checkout
On Shelf
Westgate Kids Books
4-week checkout
Kids Book / Comics & Graphic Novels / General / Craft, Jerry
4-week checkout
Due 06-22-2023
Westgate Kids Books
4-week checkout
Kids Book / Comics & Graphic Novels / General / Craft, Jerry
4-week checkout
Due 06-19-2023
Westgate Kids Books
4-week checkout
Kids Book / Comics & Graphic Novels / General / Craft, Jerry
4-week checkout
Due 06-23-2023
Malletts Kids Books
4-week checkout
Kids Book / Comics & Graphic Novels / General / Craft, Jerry
4-week checkout
Due 05-30-2023
Malletts Kids Books
4-week checkout
Kids Book / Comics & Graphic Novels / General / Craft, Jerry
4-week checkout
Due 06-13-2023
Malletts Kids Books
4-week checkout
Kids Book / Comics & Graphic Novels / General / Craft, Jerry
4-week checkout
Due 06-25-2023
Chiefly illustrations.
Seventh grader Jordan Banks loves nothing more than drawing cartoons about his life. But instead of sending him to the art school of his dreams, his parents enroll him in a prestigious private school known for its academics, where Jordan is one of the few kids of color in his entire grade. As he makes the daily trip from his Washington Heights apartment to the upscale Riverdale Academy Day School, Jordan soon finds himself torn between two worlds--and not really fitting into either one. Can Jordan learn to navigate his new school culture while keeping his neighborhood friends and staying true to himself?

REVIEWS & SUMMARIES
School Library Journal Review
Booklist Review
Publishers Weekly Review
Summary / Annotation
Fiction Profile
COMMUNITY REVIEWS
Handles serious topics and makes you laugh out loud submitted by flemingj on June 14, 2019, 6:34pm Jerry Craft will be in A2 this weekend. Read this great graphic novel about Jordan (or is it Jason) finding his crew at his new school.
Wonderful middle-grade graphic novel! submitted by TeacherN on July 26, 2019, 6:47pm I'm a middle school teacher and a mother of a middle school boy. My son and I both loved this book! It was funny and sweet, and it gave us the opportunity to talk about the micro-aggressions kids of color experience. I have bought a copy of my classroom and I expect it will probably disappear as all well-loved books eventually do.
Thrilled at the Newbery win submitted by Marian on June 13, 2020, 1:43pm Thoroughly enjoyed hearing Jerry Craft speak several different times at last year's A2CAF (so sorry it couldn't be held this year) and purchased two copies of "New Kid" to share with others. Loved the story, characters, and art . Looking forward to more from Jerry Craft.
Doesn't pull punches submitted by Xris on January 11, 2021, 8:59pm I like how the author talked about Jordan's problems fitting in and didn't hide the racism behind some of it. And I'm glad he made friends, backed them up, and ended up having an okay time there.
Good book! submitted by margaretmcnair on June 29, 2021, 8:13pm It was very well written and had very realistic points to it. It was also funny! And had good parts. -Rae age 11
Great graphic novel for reluctant readers submitted by shankart on July 13, 2021, 9:34pm The plot follows Jordan as he tries to fit in with his new predominantly white school. It does a fantastic job of illustrating microaggressions and how powerless they make people feel. There is not a lot of detail about his neighborhood friends as the book focuses more on his new school and the culture there.
book submitted by Lear2000 on July 8, 2022, 5:44pm The book was great! loved how jordan came through and adjusted to the new school and the new kid, it seems so realistic to think about what happenes in the book compared to a situation just like this in real life
New Kid submitted by SBNB on July 16, 2022, 12:49pm Great book! I can't wait to introduce it to my kids when they reach middle school.
I've read it twice submitted by mayaisAWESOME on August 28, 2022, 3:35pm It's a book that I like to read when I have nothing else to read because it is a graphic novel and graphic novels are good.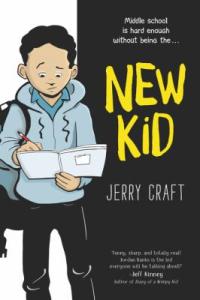 SERIES
New Kid
Newbery Medal book - 2020.


PUBLISHED
New York, NY : Harper, an imprint of HarperCollinsPublishers, 2019.
Year Published: 2019
Description: 249 pages : color illustrations ; 24 cm
Language: English
Format: Graphic Novel

ISBN/STANDARD NUMBER
0062691198
9780062691194
0062691201
9780062691200

ADDITIONAL CREDITS
Callahan, Jim,

SUBJECTS
Schools -- Fiction.
Private schools -- Fiction.
Parent and child -- Fiction.
Race -- Fiction.
Cartoonists -- Fiction.
African American artists -- Fiction.
Graphic novels.
Comics (Graphic works).