Press enter after choosing selection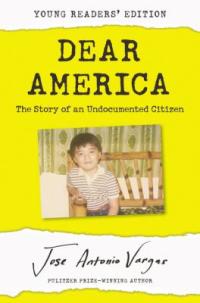 Locations
Call Number: Y 921 Vargas, Jose, Kids Book / Nonfiction / Biography / General / Vargas, Jose Antonio
On Shelf At: Downtown Library, Malletts Creek Branch, Pittsfield Branch, Traverwood Branch, Westgate Branch

| Location | Call Number | Branch | Item Status |
| --- | --- | --- | --- |
| Downtown Kids Books | Y 921 Vargas, Jose | Downtown Library | On Shelf |
| Downtown Kids Books | Y 921 Vargas, Jose | Downtown Library | On Shelf |
| Downtown Kids Books | Y 921 Vargas, Jose | Downtown Library | On Shelf |
| Downtown Kids Books | Y 921 Vargas, Jose | Downtown Library | On Shelf |
| Malletts Kids Books | Kids Book / Nonfiction / Biography / General / Vargas, Jose Antonio | Malletts Creek Branch | Reshelving |
| Malletts Kids Books | Kids Book / Nonfiction / Biography / General / Vargas, Jose Antonio | Malletts Creek Branch | On Shelf |
| Pittsfield Kids Books | Kids Book / Nonfiction / Biography / General / Vargas, Jose Antonio | Pittsfield Branch | On Shelf |
| Pittsfield Kids Books | Kids Book / Nonfiction / Biography / General / Vargas, Jose Antonio | Pittsfield Branch | On Shelf |
| Traverwood Kids Books | Kids Book / Nonfiction / Biography / General / Vargas, Jose Antonio | Traverwood Branch | On Shelf |
| Traverwood Kids Books | Kids Book / Nonfiction / Biography / General / Vargas, Jose Antonio | Traverwood Branch | Due 11-13-2020 |
| Westgate Kids Books | Kids Book / Nonfiction / Biography / General / Vargas, Jose Antonio | Westgate Branch | On Shelf |
| Westgate Kids Books | Kids Book / Nonfiction / Biography / General / Vargas, Jose Antonio | Westgate Branch | On Shelf |
| Westgate Kids Books | Kids Book / Nonfiction / Biography / General / Vargas, Jose Antonio | Westgate Branch | Due 11-20-2020 |
Gamblers -- The wrong country -- Crittenden Middle School -- Not black, not white -- Filipinos -- Mexican José and Filipino Jose -- Fake -- Playing a role -- Mountain View High School -- An adopted family -- Breaking the law -- Ambition -- Strangers -- Campaign 2008 -- Facing myself -- Public person, private self -- My government, myself -- National security threat -- Deatained -- Alone -- Interview -- Cycle of loss -- Leaving/Staying.
"Jose Antonio Vargas was only twelve years old when he was brought to the United States from the Philippines to live with his grandparents. He didn't know it, but he was sent to the U.S. illegally. When he applied for a learner's permit, he learned the truth, and he spent the next almost twenty years keeping his immigration status a secret. Hiding in plain sight, he was writing for some of the most prestigious news organizations in the country. Only after publicly admitting his undocumented status--risking his career and personal safety--was Vargas able to live his truth. This book asks questions including, How do you define who is an American? How do we decide who gets to be a citizen? What happens to those who enter the U.S. without documentation? By telling his personal story and presenting facts without easy answers, Jose Antonio Vargas sheds light on an issue that couldn't be more relevant. In this young readers' adaptation of his adult memoir Dear America, Pulitzer Prize-winning journalist and undocumented immigrant Jose Antonio Vargas tells his story, in light of the 12 million undocumented immigrants currently in the United States,"--Amazon.com.

REVIEWS & SUMMARIES
Summary / Annotation
Table of Contents
COMMUNITY REVIEWS
Dear America submitted by camieroper on March 7, 2020, 7:00pm I attended a lecture just a week after I read this book, both by Vargas. He is in person the same as in his book. The reader comes to know him, and see his predicament (brought into the USA by a coyote as a young child on a falsified passport, but doesn't know his actual status until he goes to to get his driver's license at age 15). He has done nothing wrong, but there is no solution to the problem of his non-citizenship. His frustration is palpable and pathetic and unsolvable. Now in his 40's, this journalist must keep moving and trying to find a path to citizenship. A public school in Mountain View, CA has just been named after him, and he has purchased a home there. I will definitely follow Vargas, as his compelling story is being played out in some variation by millions here in the US.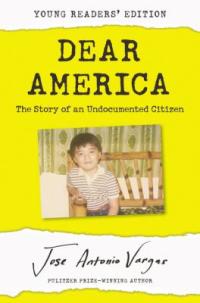 PUBLISHED
New York, NY : Harper, [2019]
Year Published: 2019
Description: 130 pages ; 22 cm
Language: English
Format: Book

ISBN/STANDARD NUMBER
9780062914590
0062914596

SUBJECTS
Vargas, Jose Antonio.
Journalists -- Biography.
Filipino Americans -- Biography.
Motion picture producers and directors -- Biography.