Press enter after choosing selection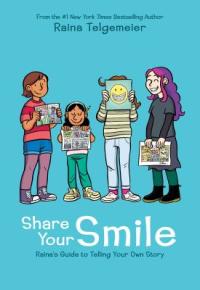 Locations
Call Number: Youth Graphic Novel / Telgemeier, Raina, Kids Book / Comics & Graphic Novels / General / Telgemeier, Raina
On Shelf At: Downtown Library, Pittsfield Branch, Traverwood Branch, Westgate Branch

| Location | Call Number | Branch | Item Status |
| --- | --- | --- | --- |
| Downtown Kids Books | Youth Graphic Novel / Telgemeier, Raina | Downtown Library | In transit |
| Downtown Kids Books | Youth Graphic Novel / Telgemeier, Raina | Downtown Library | On Shelf |
| Downtown Kids Books | Youth Graphic Novel / Telgemeier, Raina | Downtown Library | On Shelf |
| Downtown Kids Books | Youth Graphic Novel / Telgemeier, Raina | Downtown Library | On Shelf |
| Downtown Kids Books | Youth Graphic Novel / Telgemeier, Raina | Downtown Library | On Shelf |
| Downtown Kids Books | Youth Graphic Novel / Telgemeier, Raina | Downtown Library | On Shelf |
| Downtown Kids Books | Youth Graphic Novel / Telgemeier, Raina | Downtown Library | On Shelf |
| Downtown Kids Books | Youth Graphic Novel / Telgemeier, Raina | Downtown Library | Due 02-12-2021 |
| Downtown Kids Books | Youth Graphic Novel / Telgemeier, Raina | Downtown Library | Due 02-07-2021 |
| Downtown Kids Books | Youth Graphic Novel / Telgemeier, Raina | Downtown Library | Due 02-15-2021 |
| Pittsfield Kids Books | Kids Book / Comics & Graphic Novels / General / Telgemeier, Raina | Pittsfield Branch | On Shelf |
| Pittsfield Kids Books | Kids Book / Comics & Graphic Novels / General / Telgemeier, Raina | Pittsfield Branch | On Shelf |
| Traverwood Kids Books | Kids Book / Comics & Graphic Novels / General / Telgemeier, Raina | Traverwood Branch | On Shelf |
| Traverwood Kids Books | Kids Book / Comics & Graphic Novels / General / Telgemeier, Raina | Traverwood Branch | On Shelf |
| Traverwood Kids Books | Kids Book / Comics & Graphic Novels / General / Telgemeier, Raina | Traverwood Branch | On Shelf |
| Westgate Kids Books | Kids Book / Comics & Graphic Novels / General / Telgemeier, Raina | Westgate Branch | On Shelf |
| Westgate Kids Books | Kids Book / Comics & Graphic Novels / General / Telgemeier, Raina | Westgate Branch | On Shelf |
| Westgate Kids Books | Kids Book / Comics & Graphic Novels / General / Telgemeier, Raina | Westgate Branch | On Shelf |
| Malletts Kids Books | Kids Book / Comics & Graphic Novels / General / Telgemeier, Raina | Malletts Creek Branch | Due 01-30-2021 |
| Malletts Kids Books | Kids Book / Comics & Graphic Novels / General / Telgemeier, Raina | Malletts Creek Branch | Due 01-27-2021 |
| Malletts Kids Books | Kids Book / Comics & Graphic Novels / General / Telgemeier, Raina | Malletts Creek Branch | Due 02-08-2021 |
Chiefly illustrations.
Offers writing prompts, activities, and tips and techniques for writing and illustrating a story.

REVIEWS & SUMMARIES
Booklist Review
Publishers Weekly Review
Summary / Annotation
Author Notes
COMMUNITY REVIEWS
Nice! submitted by squirrellynut on June 9, 2019, 4:01pm Offers good insight on how to write, illustrate, and publish your own comic. Even has a couple pages of Guts, Raina's new book, which comes out in September. I particularly liked how to draw the facial expressions, and the steps in making a comic panel.
good submitted by meghantpowell on August 7, 2019, 10:47am this book did tech me a little bit but i recommend it !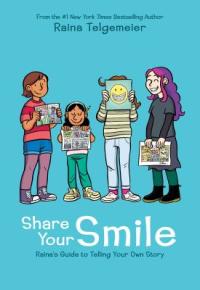 PUBLISHED
New York, NY : Graphix, an imprint of Scholastic, 2019.
Year Published: 2019
Description: 133 pages : illustrations (chiefly color) ; 21 cm
Language: English
Format: Graphic Novel

ISBN/STANDARD NUMBER
1338353845
9781338353846

SUBJECTS
Authorship.
Authorship -- Vocational guidance.
Instructional comics.
Graphic novels.