Press enter after choosing selection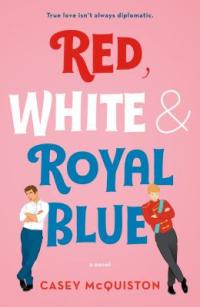 Locations
Call Number: Adult Book / Fiction / Romance / General / McQuiston, Casey, Fiction / McQuiston, Casey
On Shelf At: Westgate Branch

Location

& Checkout Length

Call Number
Checkout Length
Item Status
Westgate Adult Books
4-week checkout
Adult Book / Fiction / Romance / General / McQuiston, Casey
4-week checkout
Reshelving
Westgate Adult Books
4-week checkout
Adult Book / Fiction / Romance / General / McQuiston, Casey
4-week checkout
Due 10-25-2022
Downtown 2nd Floor
4-week checkout
Fiction / McQuiston, Casey
4-week checkout
Due 10-17-2022
Downtown 2nd Floor
4-week checkout
Fiction / McQuiston, Casey
4-week checkout
Due 10-24-2022
Malletts Adult Books
4-week checkout
Adult Book / Fiction / Romance / General / McQuiston, Casey
4-week checkout
Due 10-21-2022
Pittsfield Adult Books
4-week checkout
Adult Book / Fiction / Romance / General / McQuiston, Casey
4-week checkout
Due 10-22-2022
Pittsfield Adult Books
4-week checkout
Adult Book / Fiction / Romance / General / McQuiston, Casey
4-week checkout
Due 10-19-2022
Traverwood Adult Books
4-week checkout
Adult Book / Fiction / Romance / General / McQuiston, Casey
4-week checkout
Due 10-21-2022
Traverwood Adult Books
4-week checkout
Adult Book / Fiction / Romance / General / McQuiston, Casey
4-week checkout
Due 10-28-2022
When his mother became President, Alex Claremont-Diaz was promptly cast as the American equivalent of a young royal. Handsome, charismatic, genius--his image is pure millennial-marketing gold for the White House. There's only one problem: Alex has a beef with an actual prince, Henry, across the pond. And when the tabloids get hold of a photo involving an Alex-Henry altercation, U.S./British relations take a turn for the worse. Heads of family, state, and other handlers devise a plan for damage control: staging a truce between the two rivals. What at first begins as a fake, Instragramable friendship grows deeper, and more dangerous, than either Alex or Henry could have imagined. Soon Alex finds himself hurtling into a secret romance with a surprisingly unstuffy Henry that could derail the campaign and upend two nations and begs the question: Can love save the world after all? Where do we find the courage, and the power, to be the people we are meant to be? And how can we learn to let our true colors shine through?

REVIEWS & SUMMARIES
Library Journal Review
Booklist Review
Publishers Weekly Review
Summary / Annotation
Author Notes
COMMUNITY REVIEWS
Loved it! submitted by jdev13 on July 24, 2019, 10:16pm This book was such a surprise! So fun! I loved the characters, the politics, the romance, everything!!
Gay first love in the age of social media submitted by mowjac on August 1, 2019, 12:13pm This was a sweet, romantic and explicit story of the passion of first love mixed with living life in the public eye, and the question of what is truly private in our modern world. Alex struck me as an entitled snot at the beginning, but he and Henry both develop well in this perfect summer beach read. If you are a royal watcher, extra enjoyment from scenes that feel stolen from "The Crown".
Clever Romance submitted by sdunav on August 12, 2019, 10:01am Nice mix of politics, passion, and sweet romance among two young 20-somethings who are in the spotlight in an alternative US/Great Britain, where life after 2016 is not so depressing. Recommended for older teens/young adults.
Romance for today's world submitted by MHZ on June 12, 2020, 12:50pm This was a nice break from reality, fun and well-written!
West Wing Plot Meets Dave Rose Romance submitted by Elizabethreads on July 27, 2020, 1:55pm This is the adorable Happily Ever After we all need in 2020. I read it in one sitting.
Can't like this enough submitted by beckleystover on August 13, 2020, 11:46am This book was everything and more. 2020 needed this piece of love, happiness, fun and honesty. you'll breeze through this book, wanting it never to end.
Pretty Fun, Wish It Went Deeper submitted by Meginator on August 24, 2020, 7:02pm Content Warning: This book includes a public outing.
This book is a fairly breezy read, although it is a little bittersweet due to its alternate reality (in which the US elected a woman to the Presidency in 2016). I found myself much more interested in Prince Henry, the love interest, than in Alex, the point-of-view character, as it is Henry that has the more interesting character development and exhibits the most change during the course of the story. The enemies-to-lovers premise isn't as strong as the jacket copy suggests, and the romance takes off pretty quickly, making this more of a book about the personal and political consequences of the relationship than the relationship itself. I enjoyed the time I spent reading this book, due in no small part to the strong supporting cast and the book's sense of humor, but I expected a little more depth and wish I could have actually warmed to Alex instead of finding him primarily annoying. Still, this is a perfectly fine fluffy read.
Sooo fun to read submitted by angie. on July 21, 2021, 10:23am Great Book!
Fun read submitted by pamhockey25 on August 13, 2021, 11:49am I enjoyed Alex, the First Son, who gets involved with Henry, the Prince of England who is definitely not openly gay. The book kept me interested as their relationship grows and the cast of supporting characters will no doubt appear in future books. Definitely worth reading.
Fun and sweet submitted by judahorli on August 16, 2021, 10:24am Cute, fluffy romance between the First Son and the Prince of England. Funny, made me laugh out loud, and sweet. Writing definitely leans more YA/teen.
Yeeeessss submitted by A2AE on June 30, 2022, 11:15am This book got me hooked on Casey McQuiston. Her voice is lively, hilarious, and engaging. I loved her characters and the alternative timeline she created where a badass woman from Texas became president rather than Trump.
SO FUN submitted by bjkoch on July 15, 2022, 3:41pm Prince and First Son??? yes.
Loved this book! submitted by bookasaurusray on July 27, 2022, 10:29am HOT
feel good queer novel submitted by cdfine on August 1, 2022, 10:17pm It is absolutely insane that this was written before the events of the past few years and Harry/Meghan's wedding. I did cry from the trauma of 2016 election night flashbacks but would recommend for anyone seeking a fairytale alternative reality to the hell of what we're currently in.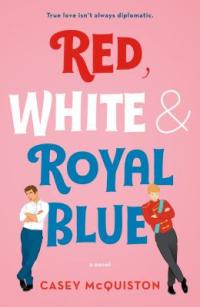 PUBLISHED
New York : St. Martin's Griffin, 2019.
Year Published: 2019
Description: 421 pages ; 21 cm.
Language: English
Format: Book

ISBN/STANDARD NUMBER
1250316774
9781250316776

SUBJECTS
Children of presidents -- Fiction.
Princes -- Great Britain -- Fiction.
Gay men -- Fiction.
Romance fiction.
Humorous fiction.