Press enter after choosing selection
Digimon Tamers. The Official Third Season
DVD - 2013 Youth-DVD TV Digimon Season 3 6 On Shelf No requests on this item Community Rating: 5 out of 5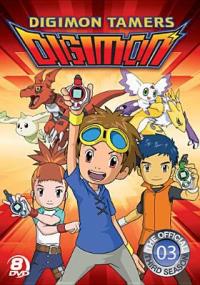 Locations
Call Number: Youth-DVD TV Digimon Season 3
On Shelf At: Downtown Library, Traverwood Branch, Westgate Branch

| Location | Call Number | Branch | Item Status |
| --- | --- | --- | --- |
| Downtown Kids | Youth-DVD TV Digimon Season 3 | Downtown Library | On Shelf |
| Downtown Kids | Youth-DVD TV Digimon Season 3 | Downtown Library | On Shelf |
| Downtown Kids | Youth-DVD TV Digimon Season 3 | Downtown Library | On Shelf |
| Traverwood Kids A/V | Youth-DVD TV Digimon Season 3 | Traverwood Branch | On Shelf |
| Westgate Kids A/V | Youth-DVD TV Digimon Season 3 | Westgate Branch | On Shelf |
| Westgate Kids A/V | Youth-DVD TV Digimon Season 3 | Westgate Branch | On Shelf |
Title from container.
Originally broadcast as 51 episodes of the television series in 2001.
Bonus features: 32-page character guide booklet ; gallery featuring more than 40 villain Digimon sketches ; villains photo gallery.
51. Such sweet sorrow.
Voices, Brian Beacock, and others.
In a separate universe from the first two seasons of Digimon Adventure, Takato, Henry, and Rika are three normal kids who are mega fans of the Digimon card game. One by one the drawings on their cards start coming to life and the kids soon realize there is a Digital World plagued by evil that needs their help.
DVD; NTSC, Dolby digital, stereo.

COMMUNITY REVIEWS
No community reviews. Write one below!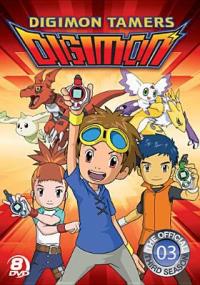 SERIES
Digimon Tamers (Television program)

PUBLISHED
[United States] : Flatiron Film Company, 2013.
Year Published: 2013
Description: 8 videodiscs (1091 min.) : sound, color ; 4 3/4 in. + 1 booklet (32 pages)
Language: English
Format: DVD

ADDITIONAL CREDITS
Hongō, Akiyoshi,
Nakatsuru, Katsuyoshi,
Tōei Animēshon Kabushiki Kaisha.
Flatiron Film Company.

SUBJECTS
Monsters -- Drama.
Friendship -- Drama.
Animated television programs.
Fantasy television programs.
Video recordings for the hearing impaired.