Press enter after choosing selection
Hellboy 2019
Blu-Ray - 2019 Blu-ray Action Hellboy 2 On Shelf 99 requests on 17 copies Community Rating: 1.3 out of 5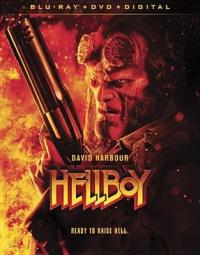 Locations
Call Number: Blu-ray Action Hellboy
On Shelf At: Downtown Library, Pittsfield Branch

| Location | Call Number | Branch | Item Status |
| --- | --- | --- | --- |
| Downtown 1st Floor | Express Shelf Blu-ray Action Hellboy | Downtown Library | On Shelf |
| Downtown 1st Floor | Express Shelf Blu-ray Action Hellboy | Downtown Library | Due 08-14-2019 |
| Downtown 1st Floor | Blu-ray Action Hellboy | Downtown Library | On Hold Shelf |
| Downtown 1st Floor | Blu-ray Action Hellboy | Downtown Library | Due 08-19-2019 |
| Downtown 1st Floor | Blu-ray Action Hellboy | Downtown Library | Due 08-24-2019 |
| Malletts Adult A/V | Blu-ray Action Hellboy | Malletts Creek Branch | On Hold Shelf |
| Malletts Adult A/V | Blu-ray Action Hellboy | Malletts Creek Branch | Due 08-23-2019 |
| Pittsfield Adult A/V | Express Shelf Blu-ray Action Hellboy | Pittsfield Branch | Reshelving |
| Traverwood Adult A/V | Blu-ray Action Hellboy | Traverwood Branch | On Hold Shelf |
| Westgate Adult A/V | Blu-ray Action Hellboy | Westgate Branch | On Hold Shelf |
| Westgate Adult A/V | Blu-ray Action Hellboy | Westgate Branch | Due 08-23-2019 |
| Malletts Adult A/V | Express Shelf Blu-ray Action Hellboy | Malletts Creek Branch | Due 08-24-2019 |
| Malletts Adult A/V | Express Shelf Blu-ray Action Hellboy | Malletts Creek Branch | Due 08-21-2019 |
| Pittsfield Adult A/V | Blu-ray Action Hellboy | Pittsfield Branch | Due 08-20-2019 |
| Traverwood Adult A/V | Express Shelf Blu-ray Action Hellboy | Traverwood Branch | Due 08-26-2019 |
| Westgate Adult A/V | Express Shelf Blu-ray Action Hellboy | Westgate Branch | Due 08-25-2019 |
| Westgate Adult A/V | Express Shelf Blu-ray Action Hellboy | Westgate Branch | Due 08-18-2019 |
Originally released as a motion picture in 2019.
Based on the Dark Horse comic book created by Mike Mignola.
Wide screen (16x9, 2.39:1).
Blu-ray exclusive special feature: Tales of the wild hunt: Hellboy reborn (3 part documentary). DVD & Blu-ray special features: deleted scenes; previsualizations.
David Harbour, Milla Jovovich, Ian McShane, Sasha Lane, Daniel Dae Kim, Thomas Haden Church.
The legendary half-demon superhero is called to the countryside to battle a trio of rampaging giants. There he discovers the Blood Queen, Nimue, a resurrected ancient sorceress thirsting to avenge a past betrayal. Suddenly caught in a clash between the supernatural and the human, Hellboy is now hellbent on stopping Nimue without triggering the end of the world.
Blu-ray, region A, wide screen (16x9, 2.39:1); Dolby Atmos, descriptive audio (English); 5.1 Dolby digital (Spanish, French); 1080p high definition; requires Blu-ray player.
Contents: Hellboy.

COMMUNITY REVIEWS
Hellboy 2019 submitted by lstorc on July 28, 2019, 11:17pm Hellboy 2019 completely lacks the charm and whit of the previous films. It's a disappointment.
Another Generic Remake submitted by generic username on August 12, 2019, 10:17pm The 2019 version of "Hellboy" is not as awful as the 2019 version of "Pet Sematary" but they both get one star ratings because zero or a negative number won't record as a score.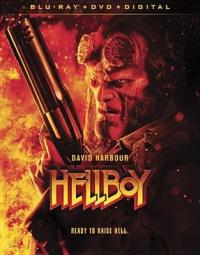 PUBLISHED
Santa Monica, CA : Lionsgate, [2019]
Year Published: 2019
Description: 1 Blu-ray videodisc (approximately 121 min.) : sound, color ; 4 3/4 in.
Language: English
Format: Blu-Ray

ADDITIONAL CREDITS
O'Toole, Matt,
Weldon, Les,
Lerner, Yariv,
Cosby, Andrew (Television writer),
Marshall, Neil, 1970-
Harbour, David, 1975-
McShane, Ian, 1942-
Jovovich, Milla,
Kim, Daniel Dae, 1968-
Mignola, Mike.
Millennium Media (Firm),
Lions Gate Home Entertainment,

SUBJECTS
Hellboy -- (Fictitious character from Mignola) -- Drama.
Animals, Mythical -- Drama.
Demonology -- Drama.
Video recordings for people with visual disabilities.
Video recordings for the hearing impaired.
Fantasy films.
Science fiction films.
Thrillers (Motion pictures)