Press enter after choosing selection
Cold war
DVD - 2019 DVD FLC-POL Cold 3 On Shelf No requests on this item Community Rating: 4.8 out of 5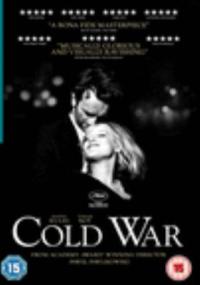 Locations
Call Number: DVD FLC-POL Cold
On Shelf At: Pittsfield Branch, Traverwood Branch, Westgate Branch

Location

& Checkout Length

Call Number
Checkout Length
Item Status
Pittsfield Adult A/V
1-week checkout
DVD FLC-POL Cold
1-week checkout
On Shelf
Traverwood Adult A/V
1-week checkout
DVD FLC-POL Cold
1-week checkout
On Shelf
Westgate Adult A/V
1-week checkout
DVD FLC-POL Cold
1-week checkout
On Shelf
Downtown 1st Floor
1-week checkout
DVD FLC-POL Cold
1-week checkout
Due 02-01-2022
Malletts Adult A/V
1-week checkout
DVD FLC-POL Cold
1-week checkout
Due 01-25-2022
Special features: new conversation between Pawlikowski and filmmaker Alejandro G inarritu; press conference featuring Pawlikowski and Zal; actors Joanna Kulig, Tomasz Kot and Borys Szyc, and producer Ewa Puszczynska; documentaries from 2018 on the making of the film; trailer; plus an essay by film critic Stephanie Zacharek.
Joanna Kulig, Tomasz Kot, Borys Szyc, Agata Kulesza, Cedric Kahn, Jeanne Balibar.
A sweeping, delirious romance begins in the Polish countryside, where Wiktor, a musician on a state-sponsored mission to collect folk songs, discovers a captivating young singer named Zula. Over the next fifteen years, their turbulent relationship will play out in stolen moments between two worlds: the jazz clubs of decadent, bohemian Paris, to which he defects, and the corrupt, repressive Communist Bloc, where she remains, universes bridged by their passion for music and for each other.
DVD, 5.1 surround.

COMMUNITY REVIEWS
No community reviews. Write one below!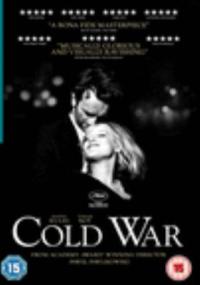 SERIES
Criterion collection
1005.

PUBLISHED
[Irvington, NY] : The Criterion Collection, [2019]
Year Published: 2019
Description: 1 videodisc (88 min.) : sound, black and white ; 4 3/4 in.
Format: DVD

ISBN/STANDARD NUMBER
9781681436654
1681436655

ADDITIONAL CREDITS
Pawlikowski, Pawel,
Kulig, Joanna, 1982-
Kot, Tomasz, 1977-
Szyc, Borys,
Kulesza, Agata, 1971-

SUBJECTS
Love -- Drama.
Cold War -- Drama.
Poland -- History -- 1945-1980 -- Drama.
Feature films.
Fiction films.