Press enter after choosing selection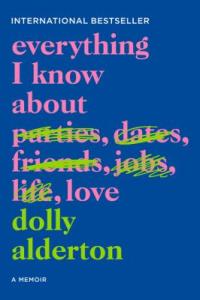 Locations
Call Number: Adult Book / Nonfiction / Biography / General / Alderton, Dolly, 921 Alderton, Dolly
On Shelf At: Traverwood Branch

| Location | Call Number | Branch | Item Status |
| --- | --- | --- | --- |
| Traverwood Adult Books | Adult Book / Nonfiction / Biography / General / Alderton, Dolly | Traverwood Branch | On Shelf |
| Downtown 2nd Floor | 921 Alderton, Dolly | Downtown Library | Due 11-24-2021 |
First published in 2018 by Fig Tree, an imprint of Penguin Random House UK.
Title on cover reads as "Everything I know about parties, dates, friends, jobs, life, love" with "parties, dates, friends, jobs, life" crossed out.
When it comes to the trials and triumphs of becoming a grown up, journalist and former Sunday Times dating columnist Dolly Alderton has seen and tried it all. In this book, she vividly recounts falling in love, wrestling with self-sabotage, finding a job, throwing a socially disastrous Rod-Stewart themed house party, getting drunk, getting dumped, realising that Ivan from the corner shop is the only man you've ever been able to rely on, and finding that that your mates are always there at the end of every messy night out. It's a book about bad dates, good friends and above all else about recognising that you and you alone are enough. Glittering, with wit and insight, heart and humour, Dolly Alderton's debut weaves together personal stories, satirical observations, a series of lists, recipes, and other vignettes that will strike a chord of recognition with women of every age while making you laugh until you fall over. "Everything I know About Love" is about the struggles of early adulthood in all its grubby, hopeful uncertainty.

REVIEWS & SUMMARIES
Library Journal Review
Publishers Weekly Review
Summary / Annotation
COMMUNITY REVIEWS
No community reviews. Write one below!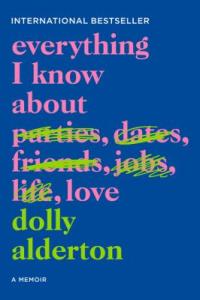 PUBLISHED
New York : HarperCollins Publishers, 2020.
Year Published: 2020
Description: 360 pages ; 20 cm.
Language: English
Format: Book

ISBN/STANDARD NUMBER
0062968785
9780062968784

SUBJECTS
Alderton, Dolly.
Love.
Friendship.
Man-woman relationships.