Press enter after choosing selection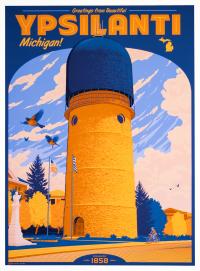 | Location | Call Number | Branch | Item Status |
| --- | --- | --- | --- |
| Downtown 1st Floor | Art Print | Downtown Library | Due 12-17-2020 |
Giclee art print. Brian Walline is an illustrator and designer based in Ann Arbor, Michigan. He graduated from the University of Michigan with a BFA in graphic design in 2004. You can find out more about Brian and his work at www.brianwalline.com.

COMMUNITY REVIEWS
Local artist submitted by sara on June 19, 2020, 5:08pm I love that AADL collects the works of local artists!
interesting submitted by bethlang on July 7, 2020, 12:38pm I don't visit Ypsilanti much, so I don't know what it looks like. But overall, this painting looks nice. I would hang this up!
Loved this print submitted by Whitetnchina on July 21, 2020, 1:52pm I've used art prints with my residents for years! What a great offering at AADL.
Funny how those birds just happen to be flying by. submitted by lisa on July 22, 2020, 2:06pm :D
Ypsilanti submitted by Mandyghutton on July 27, 2020, 10:26pm A very cool art print! It feels like a retro travel poster.
why submitted by crp on August 6, 2020, 1:03pm just why. there are so many other wonderful features of ypsilanti. sorry, not for me.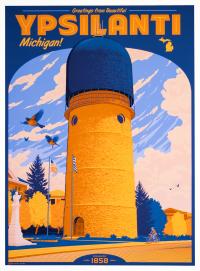 PUBLISHED
Year Published:
Description: 1 art print; dimensions 24.25 in. x 18.25 in.
Language: English
Format: Art Print