Press enter after choosing selection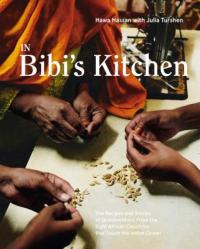 | Location | Call Number | Branch | Item Status |
| --- | --- | --- | --- |
| Westgate Adult Books | Adult Book / Nonfiction / Cooking / International / African | Westgate Branch | In transit |
| Downtown 2nd Floor | 641.5967 Ha | Downtown Library | Due 06-29-2021 |
| Malletts Adult Books | Adult Book / Nonfiction / Cooking / International / African | Malletts Creek Branch | Due 05-23-2021 |
| Pittsfield Adult Books | Adult Book / Nonfiction / Cooking / International / African | Pittsfield Branch | Due 06-18-2021 |
| Traverwood Adult Books | Adult Book / Nonfiction / Cooking / International / African | Traverwood Branch | Due 06-19-2021 |
Includes index.
Introduction -- Pantry : ingredients and equipment. -- Eritrea. -- Kicha (Eritreaen flatbreads) -- Kicha fit fit (torn flatbreads with spiced butter and yogurt) -- Zebhi hamli (stewed spinach) -- Shahan ful (mashed limas with onions, tomatoes, and chiles) -- Firgir (stewed injera with meat, tomatoes, and onions) -- Berbere spice mix -- Shiro (ground chickpea stew) -- Doro wat (stewed chicken legs with berbere and eggs) -- Buna (Eritrean coffee). -- Somalia. -- Canjeero (sourdough pancakes) -- Sabaayad (Somali flatbreads) -- Xawaash spice mix -- Somali cilantro and green chile pepper sauce -- Bariis (basmati rice pilaf with raisins) -- Spiced chicken and onion samosas -- Digaag qumbe (chicken stew with yogurt and coconut) -- Beef suqaar -- Somali beef stew -- Suugo suqaar (pasta sauce with beef) -- Shaah cadays (Somali spiced tea with milk). -- Kenya. -- Kachumbari (tomato and onion salad) -- Mango chile sauce -- Mukimo (mashed green split peas, corn, and potatoes) -- Sautéed cabbage -- Mukimo with onions and greens -- Sukuma wiki (greens with tomatoes) -- Kunde (black-eyed peas and tomatoes in peanut sauce) -- Chicken biryani -- Basboosa (semolina cake) -- Fresh carrot drink. -- Tanzania. -- Ajemi bread with carrots and green pepper -- Quick stewed eggplant with coconut -- Zanzibar pilau (rice pilaf) -- Harees with chicken (stewed cracked wheat and chicken) -- Matoke with steamed spinach (stewed plantains with pink beans, beef, and coconut milk) -- Famous lasagna -- Spiced fried fish -- Date bread -- Ndizi kaanga (fried plantains) -- Kaimati (crispy coconut dumplings in cardamom syrup) -- Fresh mango juice. -- Mozambique. -- Xima (smooth cornmeal porridge) -- Mbowa (leafy greens in coconut sauce) -- Tseke com peix frito (local spinach with curry sauce and crispy fried fish) -- Coril de peix com coco (marinated fish in coconut sauce) -- Plantains with coconut and prawns -- Piri piri sauce -- Prego rolls (steak and piri piri sandwiches) -- Bolo polana (cashew and potato cake) -- Rum with homemade berry soda. -- South Africa. -- Chakalaka (spicy vegetable relish) -- Chakalaka and cheddar braaibroodjies (grilled sandwich) -- Imifino (wild greens with corn porridge) -- Denningvleis (sweet-and-sour braised lamb with tamarind) -- Malva pudding cake -- Iced rooibos tea with orange, cloves, and cinnamon. -- Madagascar. -- Mofo gasy (yeasted rice and coconut pancakes) -- Lasary legioma (tomato relish) -- Carrot salad with vinaigrette -- Tsaramaso Malagasy (traditional Malagasy white beans) -- Akoho misy Sakamalao (chicken thighs with garlic, ginger, and coconut oil) -- Braised oxtails -- Katilesy (beef and potato fritters) -- Kadaka akondro (green plaintains with braised beef) -- Mofo akondro (banana fritters) -- Sliced papaya with vanilla cream -- Ginger spritz. -- Comoros. -- Sweet pea soup with coconut and ginger -- Ambrevades au curry (curried pigeon peas) -- Roti ya ya houma pampa (salt cod with tomatoes and onions) -- M'tsolola (fish, yuca, green plantains, and coconut milk stew) -- Grilled lobster tails with vanilla sauce -- Sweet vermicelli noodles with cardamom and butter -- Roho (Comorian wedding sweet) -- Watermelon juice with lime, ginger, and mint.
"Grandmothers from eight eastern African countries welcome you into their kitchens to share flavorful recipes and stories of family, love, and tradition in this transporting cookbook-meets-travelogue"-- Provided by publisher.

REVIEWS & SUMMARIES
Library Journal Review
Summary / Annotation
Author Notes
COMMUNITY REVIEWS
No community reviews. Write one below!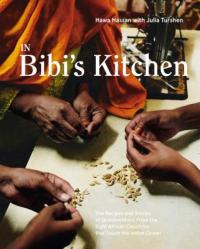 PUBLISHED
Emeryville : Ten Speed Press, 2020.
Year Published: 2020
Description: 281 pages : color illustrations ; 27 cm.
Language: English
Format: Book

ISBN/STANDARD NUMBER
9781984856739
1984856731

ADDITIONAL CREDITS
Turshen, Julia.
Farah, Khadija M.
May, Jennifer.

SUBJECTS
Cooking, Eastern African.
Cooking -- Africa, Eastern.
Cooking -- Indian Ocean Region.
Women -- Africa, Eastern -- Interviews.
Grandmothers -- Africa, Eastern -- Interviews.
Africa, Eastern -- Description and travel.
Indian Ocean Region -- Description and travel.