Press enter after choosing selection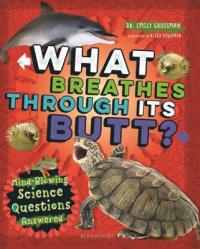 Locations
Call Number: Kids Book / Nonfiction / Science & Nature / General / Grossman, Emily, Y 500 Gr
On Shelf At: Westgate Branch, Downtown Library, Malletts Creek Branch, Pittsfield Branch

| Location | Call Number | Branch | Item Status |
| --- | --- | --- | --- |
| Westgate Kids Books, NEW | Kids Book / Nonfiction / Science & Nature / General / Grossman, Emily | Westgate Branch | On Shelf |
| Downtown Kids, NEW | Y 500 Gr | Downtown Library | On Shelf |
| Malletts Kids Books, NEW | Kids Book / Nonfiction / Science & Nature / General / Grossman, Emily | Malletts Creek Branch | On Shelf |
| Pittsfield Kids Books, NEW | Kids Book / Nonfiction / Science & Nature / General / Grossman, Emily | Pittsfield Branch | On Shelf |
| Downtown Kids, NEW | Y 500 Gr | Downtown Library | Due 04-24-2021 |
| Traverwood Kids Books, NEW | Kids Book / Nonfiction / Science & Nature / General / Grossman, Emily | Traverwood Branch | Due 05-07-2021 |
"Why is your elbow called your funny bone? How could you escape the grip of a crocodile's jaw? Which animal can breathe through its butt? This book uncovers the amazing scientific explanations behind all sorts of questions that can pop into our heads. Can an egg bounce? How can a giraffe's ridiculously long neck contain the same number of bones as a human's? How much does the Internet weigh? With delightful interactive features that invite readers to guess answers to questions and make links between different scientific concepts, this is a great book for reluctant readers and STEAM lovers alike"-- Provided by publisher.

REVIEWS & SUMMARIES
School Library Journal Review
Booklist Review
Summary / Annotation
Author Notes
COMMUNITY REVIEWS
No community reviews. Write one below!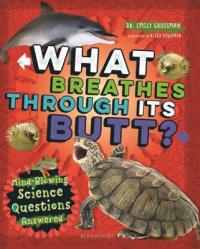 PUBLISHED
New York : Bloomsbury, 2020.
Year Published: 2020
Description: 223 pages : illustrations ; 23 cm
Language: English
Format: Book

ISBN/STANDARD NUMBER
9781547604524
1547604522

ADDITIONAL CREDITS
Bowsher, Alice,

SUBJECTS
Science -- Miscellanea.
Science.
Curiosities and wonders.
Children's questions and answers.
Instructional and educational works.
Trivia and miscellanea.
Illustrated works.