Press enter after choosing selection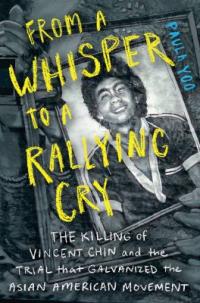 | Location | Call Number | Branch | Item Status |
| --- | --- | --- | --- |
| Downtown 2nd Floor | 305.895 Yo | Downtown Library | In transit |
| Malletts Adult Books | Adult Book / Nonfiction / Social Science / Race & Ethnicity / Yoo, Paula | Malletts Creek Branch | Due 11-15-2021 |
| Westgate Adult Books | Adult Book / Nonfiction / Social Science / Race & Ethnicity / Yoo, Paula | Westgate Branch | Due 11-13-2021 |
"We need to talk about this" -- Timeline.
"A groundbreaking portrait of Vincent Chin and the murder case that took America's Asian American community to the streets in protest of injustice. America in 1982. Japanese car companies are on the rise and believed to be putting American autoworkers out of their jobs. Anti-Asian American sentiments simmer, especially in Detroit. A bar fight turns fatal, leaving Vincent Chin-a Chinese American man-beaten to death at the hands of two white men, autoworker Ronald Ebens and his stepson Michael Nitz. From a Whisper to a Rallying Cry is a searing examination of the killing and the trial and verdicts that followed. When Ebens and Nitz pled guilty to manslaughter and received only a ,000 fine and three years' probation, the lenient sentence sparked outrage in the Asian American community. This outrage galvanized the Asian American movement and paved the way for a new federal civil rights trial of the case. Extensively researched from court transcripts and interviews with key case witnesses-many speaking for the first time-Yoo has crafted a suspenseful, nuanced, and authoritative portrait of a pivotal moment in civil rights history, and a man who became a symbol against hatred and racism"-- Provided by publisher.

REVIEWS & SUMMARIES
School Library Journal Review
Booklist Review
Publishers Weekly Review
Summary / Annotation
Table of Contents
Author Notes
COMMUNITY REVIEWS
So many reasons to read this book! submitted by flemingj on June 26, 2021, 9:37am The story of Vincent Chin is so little known. What's even less known is the outcome of the trials and the coming together of the Asian American community to get justice for his family. 5 stars
Paula Yoo did her job submitted by yufamily on July 31, 2021, 10:10am Hope there's no repeat of this tragedy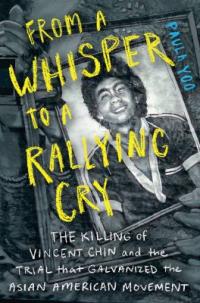 PUBLISHED
New York, NY : Norton Young Readers, an imprint of W.W. Norton & Company, [2021]
Year Published: 2021
Description: ix, 374 pages : illustrations ; 24 cm
Language: English
Format: Book

ISBN/STANDARD NUMBER
9781324002871
1324002875

SUBJECTS
Chin, Vincent, -- -1982.
Chin, Vincent, -- -1982.
Asian Americans -- Civil rights.
Murder victims -- United States.
Asian Americans -- Civil rights.
Murder victims -- United States.
True crime stories.
Biographies.
Informational works.