Press enter after choosing selection
PA System - Small Venue: S1 Pro Multi-Position PA System With Battery, Bluetooth & Two 20' Sm58 Wired Microphones
Tools Music Tools Available by request 9 requests on 7 copies Community Rating: 4.8 out of 5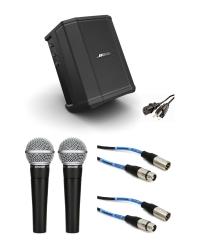 Location

& Checkout Length

Call Number
Checkout Length
Item Status
Downtown 2nd Floor Tools Shelf
2-week checkout
Music Tools
2-week checkout
On Hold Shelf
Downtown 2nd Floor Tools Shelf
2-week checkout
Music Tools
2-week checkout
On Hold Shelf
Downtown 2nd Floor Tools Shelf
2-week checkout
Music Tools
2-week checkout
On Hold Shelf
Downtown 2nd Floor Tools Shelf
2-week checkout
Music Tools
2-week checkout
On Hold Shelf
Downtown 2nd Floor Tools Shelf
2-week checkout
Music Tools
2-week checkout
In transit
Downtown 2nd Floor Tools Shelf
2-week checkout
Music Tools
2-week checkout
Due 09-10-2023
Downtown 2nd Floor Tools Shelf
2-week checkout
Music Tools
2-week checkout
Due 09-28-2023
Be the hero of the party with the Bose S1 Pro system. This Bluetooth® speaker delivers big sound from a rugged, all-in-one system. Stream from a mobile device, plug in a microphone, or even your favorite musical instrument. It's lightweight and has a convenient carry-handle so it's easy to bring nearly anywhere. Plus, with the rechargeable lithium-ion battery, you can use your S1 Pro anywhere. The S1 Pro is just what you need for parties, outdoor get-togethers, and all those times you need your voice and music to be heard. So bring a pro, the S1 Pro.

CONTENTS
Bose S1 Pro Portable Bluetooth Speaker
Speaker Power Cord
Two SM58 Microphones
Two 20' Microphone Cables
CASING
Bose S1 Pro|13" H x 9.5" W x 11.2" D (15.7 lbs)
SPECIFICATIONS
DOCUMENTATION
Download
Download
Download
Download
Download
COMMUNITY REVIEWS
No community reviews. Write one below!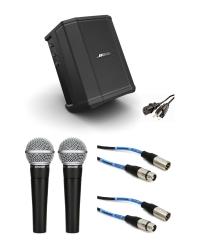 PUBLISHED
Year Published:
Language: English
Format: Tools

SUBJECTS
Music Tools