Press enter after choosing selection
The Proud Family. The Complete Original Series
DVD - 2022 Youth-DVD Disney Proud None on shelf 3 requests on 5 copies Community Rating: 0 out of 5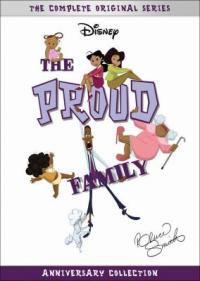 Location

& Checkout Length

Call Number
Checkout Length
Item Status
Downtown Kids
3-week checkout
Youth-DVD Disney Proud
3-week checkout
Due 07-19-2022
Malletts Kids A/V
3-week checkout
Youth-DVD Disney Proud
3-week checkout
Due 07-14-2022
Pittsfield Kids A/V
3-week checkout
Youth-DVD Disney Proud
3-week checkout
Due 07-13-2022
Traverwood Kids A/V
3-week checkout
Youth-DVD Disney Proud
3-week checkout
Due 07-16-2022
Westgate Kids A/V
3-week checkout
Youth-DVD Disney Proud
3-week checkout
Due 07-14-2022
Title from container. Special features taken from DVD menu screen (disc 7).
"Total episode running time: approx. 1170 minutes / Movie running time: approx. 95 minutes"--Container.
Originally broadcast as individual episodes of a television program from 2001-2005. The Proud Family Movie was originally broadcast on television in 2005.
Special features (disc 7): extended/alternate ending; The Proud family shorties: Toy store eee!!!, The picnic, The beach, Let's wrestle!.
Disc 1. Episodes 1-8 -- Disc 2. Episodes 9-17 -- Disc 3. Episodes 18-26 -- Disc 4. Episodes 27-35 -- Disc 5. Episodes 36-44 -- Disc six. Episodes 45-52 -- Disc 7. The Proud family movie.
Kyla Pratt, Tommy Davidson, Paula Jai Parker, Jo Marie Payton, Tara Strong, Karen Malina White, Soleil Moon Frye, Alisa Reyes, Orlando Brown.
Follow the adventures and misadventures of Penny Proud as she does her best to navigate through the early years of teen-dom.
DVD; region 1; NTSC; full screen (1.33:1) (episodes), widescreen (1.78:1) (movie); Dolby Digital 2.0.

COMMUNITY REVIEWS
No community reviews. Write one below!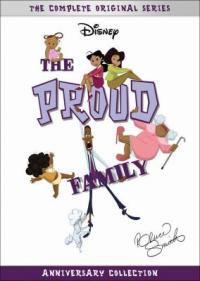 SERIES
Disney DVD

PUBLISHED
[Burbank, CA] : Disney, 2022.
Year Published: 2022
Description: 7 videodiscs (approximately 1265 min.) : sound, color ; 4 3/4 in.
Language: English
Format: DVD

ADDITIONAL CREDITS
Smith, Bruce W., 1961-
Pratt, Kyla,
Davidson, Tommy,
Parker, Paula Jai, 1969-
Payton, JoMarie, 1950-
Strong, Tara, 1973-
White, Karen Malina, 1965-
Frye, Soleil Moon,
Reyes, Alisa, 1981-
Brown, Orlando, 1987-
Walt Disney Company,
Buena Vista Home Entertainment (Firm),

SUBJECTS
African American teenage girls -- Drama.
African American families -- Drama.
Teenagers -- Drama.
Families -- Drama.
Friendship -- Drama.
Video recordings for the hearing impaired.