Press enter after choosing selection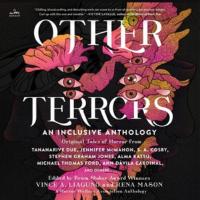 Location

& Checkout Length

Call Number
Checkout Length
Item Status
Downtown 2nd Floor
4-week checkout
BOCD Fiction / Other Terrors
4-week checkout
Due 10-04-2022
Pittsfield Adult A/V
4-week checkout
Adult BOCD / Fiction / General / Other Terrors
4-week checkout
Due 10-29-2022
Includes bonus PDF.
Introduction / by Vince A. Liaguno and Rena Mason -- Other fears / by Christina Sng -- Idiot girls / by Jennifer McMahon -- Waste not / by Alma Katsu -- Night shopper / by Michael H. Hanson -- Scrape / by Denise Dumars -- Mud flappers / by Usman T. Malik -- Churn the unturning tide / by Annie Neugebauer -- There's always something in the woods / by Gabino Iglesias -- The turning / by Hailey Piper -- Help, I'm a cop / by Nathan Carson -- Miss Infection USA / by Shanna Heath -- All not ready / by Tracy Cross -- Illusions of the de-evolved / by Linda D. Addison -- Black screams, yellow stars / by Maxwell I. Gold -- Kalkriese / by Larissa Glasser -- The devil don't come with horns / by Eugen Bacon -- Invasive species / by Anna Dávila Cardinal -- The asylum / by Holly Lyn Walrath -- Tiddlywinks / by Stephen Graham Jones -- Where the lovelight gleams / by Michael Thomas Ford -- It comes in waves / by Jonathan Lees -- The voices of nightingales / by M.E. Bronstein -- What blood hath wrought / by S.A. Cosby -- Incident at Bear Creek Lodge / by Tananarive Due.
Performed by various narrators [Jeanette Illidge, Catherine Ho, James Fouhey, Tim Chiou, Neil Shah, and Blessing Mokgohloa].
This is an anthology of original horror stories that showcases authors from historically excluded backgrounds telling terrifying tales of what it means to be, or merely to seem, "other."

REVIEWS & SUMMARIES
Summary / Annotation
COMMUNITY REVIEWS
No community reviews. Write one below!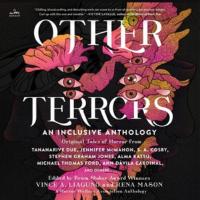 PUBLISHED
[New York] : HarperCollins, [2022]
Year Published: 2022
Description: 10 audio discs (12 hr.) ; 4 3/4 in. + 1 computer disc (PDF ; 4 3/4 in.)
Language: English
Format: Book on CD

ISBN/STANDARD NUMBER
9798200967810
9798212050036

ADDITIONAL CREDITS
Liaguno, Vince A.,
Mason, Rena,
Illidge, Jeanette,
Ho, Catherine,
Fouhey, James,
Chiou, Tim, 1979-
Shah, Neil, 1976-
Mokgohloa, Blessing,
Horror Writers Association.

SUBJECTS
Horror tales, American.
Horror tales, American -- Minority authors.
Other (Philosophy) -- Fiction.
Individual differences -- Fiction.
Prejudices -- Fiction.
Fear -- Fiction.
Short stories.
Horror fiction.