Press enter after choosing selection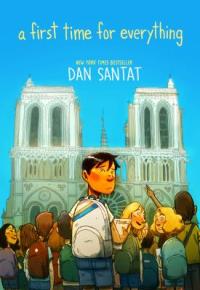 Location

& Checkout Length

Call Number
Checkout Length
Item Status
Pittsfield Kids Books
4-week checkout
Kids Book / Comics & Graphic Novels / Nonfiction / Santat, Dan
4-week checkout
In transit
Pittsfield Kids Books
4-week checkout
Kids Book / Comics & Graphic Novels / Nonfiction / Santat, Dan
4-week checkout
Due 10-28-2023
Downtown Kids Books
4-week checkout
Youth Graphic Novel / Santat, Dan
4-week checkout
Due 10-10-2023
Downtown Kids Books
4-week checkout
Youth Graphic Novel / Santat, Dan
4-week checkout
Due 10-31-2023
Downtown Kids Books
4-week checkout
Youth Graphic Novel / Santat, Dan
4-week checkout
Due 10-08-2023
Malletts Kids Books
4-week checkout
Kids Book / Comics & Graphic Novels / Nonfiction / Santat, Dan
4-week checkout
Due 10-12-2023
Traverwood Kids Books
4-week checkout
Kids Book / Comics & Graphic Novels / Nonfiction / Santat, Dan
4-week checkout
Due 10-27-2023
Westgate Kids Books
4-week checkout
Kids Book / Comics & Graphic Novels / Nonfiction / Santat, Dan
4-week checkout
Due 10-10-2023
Westgate Kids Books
4-week checkout
Kids Book / Comics & Graphic Novels / Nonfiction / Santat, Dan
4-week checkout
Due 09-05-2023
Westgate Kids Books
4-week checkout
Kids Book / Comics & Graphic Novels / Nonfiction / Santat, Dan
4-week checkout
Due 10-06-2023
"A middle grade graphic memoir based on bestselling author and Caldecott Medalist Dan Santat's awkward middle school years and the trip to Europe that changed his life. Dan's always been a good kid. The kind of kid who listens to his teachers, helps his mom with grocery shopping, and stays out of trouble. But being a good kid doesn't stop him from being bullied and feeling like he's invisible, which is why Dan has low expectations when his parents send him on a class trip to Europe. At first, he's right. He's stuck with the same girls from his middle school who love to make fun of him, and he doesn't know why his teacher insisted he come on this trip. But as he travels through France, Germany, Switzerland, and England, a series of first experiences begin to change him--first Fanta, first fondue, first time stealing a bike from German punk rockers... and first love. Funny, heartwarming, and poignant, A First Time for Everything is a feel-good coming-of-age memoir based on New York Times bestselling author and Caldecott Medal winner Dan Santat's awkward middle school years. It celebrates a time that is universally challenging for many of us, but also life-changing as well."-- Publisher marketing.

REVIEWS & SUMMARIES
School Library Journal Review
Booklist Review
Publishers Weekly Review
Summary / Annotation
Author Notes
COMMUNITY REVIEWS
Great submitted by manz on June 14, 2023, 2:06pm What a good graphic novel! My first Santat read. I really like graphic memoirs.
Excellent Memoir! submitted by annakbh on June 15, 2023, 11:56am A very satisfying memoir. So many firsts - first time in Europe, first drink, first kiss… many more.
Read and re-read submitted by Marian on June 16, 2023, 10:42am Enjoyed it so much I re-read it before returning it. Santat was at A2CAF recently and did say that some of the events did not happen exactly as presented in this memoir (e.g. Wimbledon was on the second day of the trip, not the last), but it's a wonderful story regardless. Good kid comes out just fine, and even the kids who seem a bit mean at first show their better selves away from the school setting, traveling abroad where everyone's growing up and out toward adulthood and their best selves.
Great! submitted by Xris on July 26, 2023, 12:58am Great middle school graphic noviel memoir. Traveling to Europe for three weeks, Dan expands his horizons and belief in himself.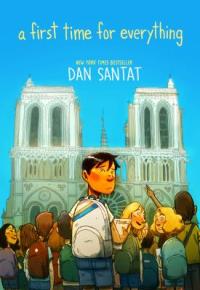 PUBLISHED
New York : First Second, 2023.
Year Published: 2023
Description: 308 pages, [9] pages of plates : illustrations (chiefly color), photographs ; 21 cm.
Language: English
Format: Graphic Novel

ISBN/STANDARD NUMBER
9781626724150
1250851041

SUBJECTS
Santat, Dan.
Coming of age -- Comic books, strips, etc.
First loves -- Comic books, strips, etc.
Romance comic books, strips, etc.
Friendship -- Comic books, strips, etc.
Middle school students -- Comic books, strips, etc.
Bullies -- Comic books, strips, etc.
Families -- Comic books, strips, etc.
Europe -- Travel -- Comic books, strips, etc.
United States -- Travel -- Comic books, strips, etc.
Coming-of-age comics.
Graphic novels.
Travel comics.
Nonfiction comics.
Autobiographical comics.
Romance comics.