Press enter after choosing selection
Like Water for Chocolate
DVD - 2023 On Order None on shelf 8 requests on 0 copies Community Rating: 0 out of 5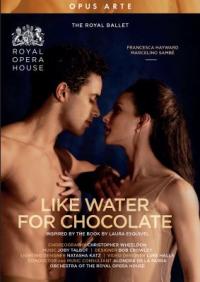 AADL has no copies of this item

Title from disc label.
Inspired by the book by Laura Esquivel.
Wide screen (16:9).
Special features: An introduction to Like water for chocolate; Creating Like water for chocolate; trailer and Like water for chocolate in pictures; cast gallery.
Francesca Hayward, Laura Morera, Mayara Magri, Meaghan Grace Hinkis, Marcelino Sambe, Matthew Ball, Christina Arestis, Cesar Corrales, Gary Avis, Isabella Gasparini ; Tomás Barreiro, guitar ; the Royal Ballet ; Orchestra of the Royal Opera House ; Alondra De la Parra, conductor.
A modern Mexican classic provides the basis for a theatrical tale of love, jealousy, repression, and revolution. The Royal Ballet's 2022 production reunited Artistic Associate Christopher Wheeldon with the stellar creative team who transformed Alice's Adventures in Wonderland and The Winter's Tale into dance, composer Joby Talbot and designer Bob Crowley. Inspired by Laura Esquivel's novel, the central character's emotions spill out through cooking to influence everyone around her in startling and dramatic ways. The full Company, led by Francesca Hayward as Tita and Marcelino Samb̌ as Pedro, reshapes this captivating family saga into a richly layered and engrossing new ballet where passion, mystery, and magic combine.
DVD, all reigons, NTSC; wide screen (16:9); LPCM 2.0, DTS digital surround.
Contents: Como agua para chocolate. -- Like water for chocolate.

COMMUNITY REVIEWS
No community reviews. Write one below!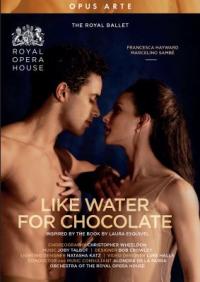 PUBLISHED
[Place of publication not identified] : Opus Arte, [2023]
Year Published: 2023
Description: 1 videodisc (118 min.) : sound, color ; 4 3/4 in.
Language: English
Format: DVD

ADDITIONAL CREDITS
Wheeldon, Christopher,
MacGibbon, Ross,
Hayward, Francesca, 1992-
Morera, Laura,
Magri, Mayara,
Hinkis, Meaghan,
Sambé, Marcelino,
Barreiro, Tomás, 1976-
De la Parra, Alondra, 1980-
Esquivel, Laura, 1950-
Talbot, Joby.
Wheeldon, Christopher.
Opus Arte (Firm),
Royal Ballet,
American Ballet Theatre,
Royal Opera House (London, England).

SUBJECTS
Ballets.
Ballets.
Ballets
Filmed ballets
Filmed performances
Filmed ballets.
Filmed performances.
Nonfiction films.
Adaptations.
Ballets filmés.
Spectacles filmés.
Films autres que de fiction.