Press enter after choosing selection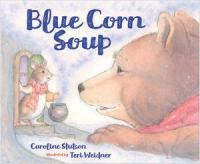 PREVIEW
You must be logged in and have a valid library card to stream downloadable content
As snow begins to fall in the canyon, Mouse knows just what will keep her warm--blue corn soup. As the soup starts simmering, her neighbors catch the scent and hope to share. There isn't nearly enough blue corn soup for everyone, but Mouse has an idea that will keep them all toasty, their bellies full, and will make friends out of neighbors.

COMMUNITY REVIEWS
Blue Corn Soup submitted by SBNB on July 4, 2020, 9:50am This is a nice story about a mouse making blue corn soup in the winter. The text rhymes nicely, there are some Spanish words included, and at the end, there's a recipe for blue corn soup.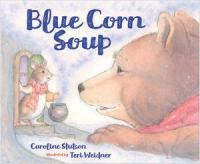 DOWNLOADS
You must be logged in and have a valid library card to access downloads

SERIES
Sleeping Bear Press

PUBLISHED
Year Published: 2017
Format: Book Download

ISBN/STANDARD NUMBER
9781534103115

SUBJECTS
Stories in rhyme.
Soups -- Fiction.
Cooking -- Fiction.
Animals -- Fiction.
Friendship -- Fiction.