Press enter after choosing selection
L.a. Theatre Works Presents: Hold These Truths
Sakata, Jeanne. Audiobook Download - 2018 Community Rating: 3 out of 5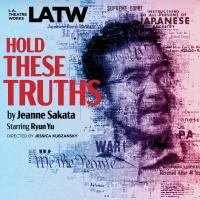 STREAM
You must be logged in and have a valid library card to stream downloadable content
"During WWII in Seattle, University of Washington student Gordon Hirabayashi fights the US government's orders to forcibly remove and incarcerate all people of Japanese ancestry on the West Coast. As he struggles to reconcile his country's betrayal with his passionate belief in the US Constitution, Gordon begins a 50-year journey toward a greater understanding of America's triumphs - and a confrontation with its failures.

Includes an interview with playwright Jeanne Sakata.

Hold These Truths is sponsored in part by the California Civil Liberties Program from the California State Library.

Recorded at The Invisible Studios, West Hollywood, in December of 2018.

Directed by Jessica Kubzansky
Producing Director Susan Albert Loewenberg
Starring Ryun Yu as Gordon Hirabayashi
Additional voices by Matthew Floyd Miller, Suzy Nakamura, Matt Walker, and Greg Watanabe

Associate Artistic Director: Anna Lyse Erikson. Sound Designer and Mixing Engineer: Mark Holden for The Invisible Studios, West Hollywood. Senior Radio Producer: Ronn Lipkin. Foley Artist: Jeff Gardner. Recording Engineer and Editor: Erick Cifuentes."

COMMUNITY REVIEWS
No community reviews. Write one below!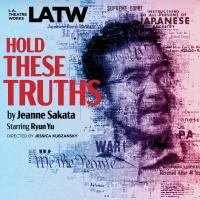 DOWNLOADS
You must be logged in and have a valid library card to access downloads

PUBLISHED
Year Published: 2018
Format: Audiobook Download