Press enter after choosing selection
Mochimochi Land's Zaru Pattern
Anna Hrachovec Pattern Download - 2013 Community Rating: 4.5 out of 5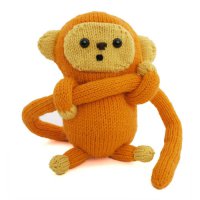 PREVIEW
You must be logged in and have a valid library card to stream downloadable content
With a tail this long, a monkey means business!
Zaru can swing from the trees, dangle from a bookshelf, or wrap around your wrist and go where you go. Knit him for yourself or for monkey-loving friends of all ages.
This intermediate-level pattern features clever placement of arms for perfect tail grabbing. Knit him up in a just a couple of days!

COMMUNITY REVIEWS
so cute submitted by kzheng on June 17, 2015, 4:02pm its really cute, and is a really nice gift, but its really hard to make.
amazing submitted by syedaayeshar on July 31, 2016, 3:35pm really cute
Aww submitted by jduffy12 on August 3, 2016, 11:26pm It looks so adorable
cute submitted by globesky on August 19, 2017, 1:46pm hard to make but cute!
jhhjbjh submitted by SoapyCupcaketoeNaIL on July 24, 2021, 12:10pm yggyuuuuuuuu
for the love of tails! submitted by nsvinicki on July 7, 2022, 11:18am I love his extra long tail! Another super cute MochiMochi design! I'd recommend knowing how to knit in the round, kitchner stitch and working on very small needles before attempting. Otherwise extremely well written and adorable designs! Thanks again for having these available, AADL!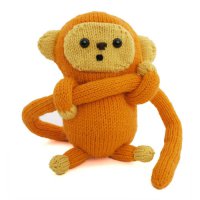 DOWNLOADS
You must be logged in and have a valid library card to access downloads


PUBLISHED
Mochimochi Land
Year Published: 2013
Language: English
Format: Pattern Download

SUBJECTS
Amigurumi -- Patterns.
Knitting -- Patterns.
Soft toy making.
Needlework
Knitting