Press enter after choosing selection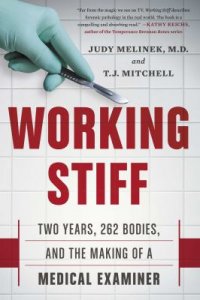 Locations
Call Number: 921 Melinek, Judy, Adult Book / Nonfiction / Biography / Science & Technology / Melinek, Judy
On Shelf At: Downtown Library, Malletts Creek Branch

Location

& Checkout Length

Call Number
Checkout Length
Item Status
Downtown 2nd Floor
4-week checkout
921 Melinek, Judy
4-week checkout
On Shelf
Malletts Adult Books
4-week checkout
Adult Book / Nonfiction / Biography / Science & Technology / Melinek, Judy
4-week checkout
On Shelf
"The fearless memoir of a young forensic pathologist's "rookie season" as a NYC medical examiner, and the cases--hair-raising and heartbreaking and impossibly complex--that shaped her as both a physician and a mother. Just two months before the September 11 terrorist attacks, Dr. Judy Melinek began her training as a New York City forensic pathologist. With her husband T.J. and their toddler Daniel holding down the home front, Judy threw herself into the fascinating world of death investigation--performing autopsies, investigating death scenes, counseling grieving relatives. Working Stiff chronicles Judy's two years of training, taking readers behind the police tape of some of the most harrowing deaths in the Big Apple, including a firsthand account of the events of September 11, the subsequent anthrax bio-terrorism attack, and the disastrous crash of American Airlines flight 587. Lively, action-packed, and loaded with mordant wit, Working Stiff offers a firsthand account of daily life in one of America's most arduous professions, and the unexpected challenges of shuttling between the domains of the living and the dead. The body never lies--and through the murders, accidents, and suicides that land on her table, Dr. Melinek lays bare the truth behind the glamorized depictions of autopsy work on shows like CSI and Law & Order to reveal the secret story of the real morgue"-- Provided by publisher.

REVIEWS & SUMMARIES
Library Journal Review
Booklist Review
Publishers Weekly Review
Summary / Annotation
Table of Contents
Fiction Profile
Author Notes
COMMUNITY REVIEWS
No community reviews. Write one below!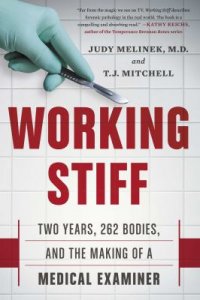 PUBLISHED
New York : Scribner, 2014.
Year Published: 2014
Description: 258 pages ; 24 cm.
Language: English
Format: Book

ISBN/STANDARD NUMBER
9781476727257
1476727252
9781476727264
1476727260

ADDITIONAL CREDITS
Mitchell, T. J.

SUBJECTS
Melinek, Judy.
Forensic pathologists -- New York -- Biography.
Medical examiners (Law) -- New York -- Biography.