Press enter after choosing selection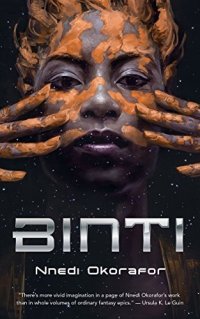 Locations
Call Number: Adult Book / Fiction / Science Fiction / General / Okorafor, Nnedi
On Shelf At: Malletts Creek Branch, Pittsfield Branch

Location

& Checkout Length

Call Number
Checkout Length
Item Status
Malletts Adult Books
4-week checkout
Adult Book / Fiction / Science Fiction / General / Okorafor, Nnedi
4-week checkout
On Shelf
Pittsfield Adult Books
4-week checkout
Adult Book / Fiction / Science Fiction / General / Okorafor, Nnedi
4-week checkout
On Shelf
Traverwood Adult Books
4-week checkout
Adult Book / Fiction / Science Fiction / General / Okorafor, Nnedi
4-week checkout
In transit
Westgate Adult Books
4-week checkout
Adult Book / Fiction / Science Fiction / General / Okorafor, Nnedi
4-week checkout
Due 07-05-2023
Her name is Binti, and she is the first of the Himba people ever to be offered a place at Oomza University, the finest institution of higher learning in the galaxy. But to accept the offer will mean giving up her place in her family to travel between the stars among strangers who do not share her ways or respect her customs. Knowledge comes at a cost, one that Binti is willing to pay, but her journey will not be easy. The world she seeks to enter has long warred with the Meduse, an alien race that has become the stuff of nightmares. Oomza University has wronged the Meduse, and Binti's stellar travel will bring her within their deadly reach. If Binti hopes to survive the legacy of a war not of her making, she will need both the the gifts of her people and the wisdom enshrined within the University, itself--but first she has to make it there, alive.

REVIEWS & SUMMARIES
School Library Journal Review
Publishers Weekly Review
Summary / Annotation
Author Notes
COMMUNITY REVIEWS
Delightful submitted by brady.emmett on July 25, 2016, 11:25am This book is a delightful quick read, and is a refreshing take on story telling
VERY satisfying novella submitted by nsvinicki on August 25, 2017, 4:33pm Nnendi Okorafor does not disappoint with this original novella. It's traditional science fiction that fills in everything traditional science fiction lacks - complex, rich female characters of color. She doesn't pull any punches on questions of race, culture, and assimilation, and I don't think I've ever read a more beautiful, joyful story. I'm so excited for book two.
Delightful novella about strength submitted by Susan4Pax -prev. sueij- on July 21, 2018, 4:17pm A delightful little novella about strength. Binti leaves home against the wishes of her entire community, and discovers that she holds an item that allows her to survive when she should not. Her internal fortitude determines what she will make of the paths available to her, and every choice makes her both part of one thing, and apart from something else. Over and over, she must decide where and how to be strong.
Different submitted by onpaper24 on July 21, 2018, 10:46pm Not a bad story
Beautiful submitted by thatssuper1 on August 31, 2018, 10:59pm A great introduction to a strong character.
Good submitted by zmclaugh on July 20, 2019, 11:08am A quick story about a girl who must make tough decisions to change the world.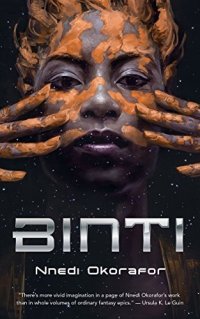 PUBLISHED
New York : Tom Doherty Associates, LLC, ©2015.
Year Published: 2015
Description: 90 pages ; 21 cm.
Language: English
Format: Book

ISBN/STANDARD NUMBER
0765385252
9780765385253

SUBJECTS
Human-alien encounters -- Fiction.
Extraterrestrial beings -- Fiction.
Interstellar travel -- Fiction.
College stories.
Outer space -- Fiction.
Science fiction.