Press enter after choosing selection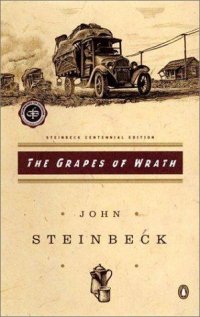 Locations
Call Number: Fiction / Steinbeck, John, Adult Book / Fiction / Classic / Steinbeck, John
On Shelf At: Downtown Library

Location

& Checkout Length

Call Number
Checkout Length
Item Status
Downtown 2nd Floor
4-week checkout
Fiction / Steinbeck, John
4-week checkout
On Shelf
Traverwood Adult Books
4-week checkout
Adult Book / Fiction / Classic / Steinbeck, John
4-week checkout
Due 02-13-2023
Westgate Adult Books
4-week checkout
Adult Book / Fiction / Classic / Steinbeck, John
4-week checkout
Due 02-12-2023
REVIEWS & SUMMARIES
Summary / Annotation
Author Notes
Library Journal Review
Fiction Profile
COMMUNITY REVIEWS
Classic submitted by TLW1998 on July 23, 2019, 8:47pm This classic is worth reading.
Another classic submitted by crp on August 6, 2019, 7:20pm Another worthy read
Americana submitted by pepemama on August 7, 2019, 1:40pm If you want to feel American during the Dust Bowl and the movement to California - read this. The alternating chapter style is both unique and gives us two stories in one. Great novel.
Must Read submitted by LauraMarie on August 12, 2020, 10:39am Steinbeck's political commentary is searing, yet written in a way that is composed, objective, and filled with heart. A must-read!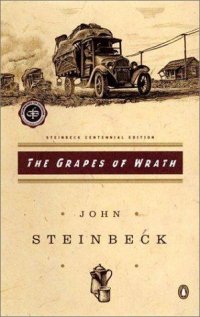 PUBLISHED
c1939.
Year Published: 1939
Description: 619 p. ; 21 cm.
Language: English
Format: Book

READING LEVEL
Lexile: 680

ISBN/STANDARD NUMBER
0142000663
0143039431

SUBJECTS
Migrant agricultural laborers -- Fiction.
Rural families -- Fiction.
Depressions -- Fiction.
Labor camps -- Fiction.
California -- Fiction.
Oklahoma -- Fiction.
Domestic fiction.
Political fiction.