Press enter after choosing selection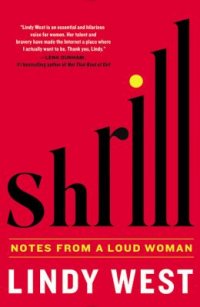 Locations
Call Number: 921 West, Lindy, Adult Book / Nonfiction / Biography / General / West, Lindy
On Shelf At: Downtown Library, Pittsfield Branch, Traverwood Branch, Westgate Branch

Location

& Checkout Length

Call Number
Checkout Length
Item Status
Downtown 2nd Floor
4-week checkout
921 West, Lindy
4-week checkout
On Shelf
Downtown 2nd Floor
4-week checkout
921 West, Lindy
4-week checkout
On Shelf
Pittsfield Adult Books
4-week checkout
Adult Book / Nonfiction / Biography / General / West, Lindy
4-week checkout
On Shelf
Traverwood Adult Books
4-week checkout
Adult Book / Nonfiction / Biography / General / West, Lindy
4-week checkout
On Shelf
Westgate Adult Books
4-week checkout
Adult Book / Nonfiction / Biography / General / West, Lindy
4-week checkout
On Shelf
Malletts Adult Books
4-week checkout
Adult Book / Nonfiction / Biography / General / West, Lindy
4-week checkout
Due 12-19-2022
REVIEWS & SUMMARIES
Library Journal Review
Booklist Review
Publishers Weekly Review
Summary / Annotation
Table of Contents
Fiction Profile
Author Notes
COMMUNITY REVIEWS
Great! submitted by emilyhubbel on June 17, 2017, 5:53pm Hilarious and thought-provoking, this book is an amazing feminist read
5 of 5 stars submitted by cullerth on July 19, 2018, 9:30pm One of the best books I've read this year.

I hadn't heard of Lindy West before picking up this collection of essays, but apparently she's a successful writer contributing regularly to the likes of The New York Times and The Guardian. What caught my attention immediately was the relatable-ness of Lindy's story: learning to speak up in the world as a woman is a struggle for most - if not all - women. The humor and power of her voice, too, lend well to the ~no b.s.~ tone of the book.

What really stuck with me, though, was her recounting of the severe online vitriol that she is subject to. As someone who doesn't engage much in online spaces, this isn't something I have experienced. And so the lengths that some people go to in an attempt to silence Lindy frankly shocked me. If nothing else, read the book to understand the extent of the toxicity of online anonymity. It makes Lindy's continued speaking truth to power all the more admirable.

Overall, a great feminist read.
Amazing feminist read submitted by Adam Graham on August 31, 2018, 8:29pm I agree with the other reviewers that this is hilarious and thought provoking - Lindy West also has a wonderful column in NYT once in a while.
You go, Lindy. submitted by lisa on July 1, 2019, 12:36pm I mostly wanted to hear her tell about the Dan Savage thing. And it's in there alright.
Fresh submitted by krathje on June 26, 2021, 2:18pm This book funny, vulnerable, poignant. Fully enjoyed this read.
Cracked me up submitted by bcartm01 on June 21, 2022, 8:18pm This book literally had me laughing out loud and several parts. I loved the authors account of her experience as a larger woman. I also didn't realize her role in the whole rape being funny debate among comedians, she is so great. I would read this book again!
Much Needed voice submitted by Bethybeth07 on August 1, 2022, 4:12pm Its wonderful to hear from a voice that is often ignored or silenced.
Lindy is a modern treasure submitted by clk.9123 on August 21, 2022, 3:00pm This is the book I've been waiting for. The pro-body, self love, feminist memoir/essay compilation of my dreams.

I have so many good things to say about this book. First of all, I am not familiar with Lindy's work at all, which will soon be remedied because I need more of this woman's writings in my life. She has a stellar voice and it's always so refreshing to read a book by someone who <i> is actually a writer. </i> That might sound stupid, but Lindy was born to write and boy does she do it well.

I found her to be hilarious. She writes about life as a fat woman, as a feminist, as a shy kid, about periods, with so much truth and just the perfect twist of humor. She doesn't use sex or drugs or alcohol as edgy devices to be in the "cool" crowd like so many other writers and memoir authors do. She champions truth and being a good person over coolness and I am so about this, I was actually stunned to read about it. I shouldn't be. That's how it should always be. But it's not. I always find that sex and drugs used as storytelling devices to be phony and perpetuates this image that it's the only way you can rise to the top, be edgy, be "cool." Pft. Give me a break, peeps.

Lindy addresses the blatant sexism and misogyny that runs rampant in stand up comedy. I may have actually applauded these chapters in real life. I've never been a huge fan of stand up, because I can't stand using marginalized people's everyday trials and tribulations as a means to make people laugh - ironic or not. Lindy's crusade against the comedy industry's usage of rape jokes is so so admirable. You want Lindy West in your corner, and I'm so glad that as a woman we have her in ours.

This is one of those books that anyone who has struggled with their weight and body image should read. This is one of those books that women across the board should read. This is the kind of book that men, confused about rape culture and how to treat a woman with respect, dignity, and with equality should read.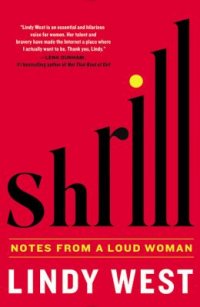 PUBLISHED
New York : Hachette Books, 2016.
Year Published: 2016
Description: 260 pages ; 21 cm.
Language: English
Format: Book

ISBN/STANDARD NUMBER
9780316348409
0316348406

SUBJECTS
West, Lindy -- Humor.
Women journalists -- Biography.
Feminists -- Biography.
Women -- Humor.
Conduct of life -- Humor.
Humor.
Autobiographies.