Press enter after choosing selection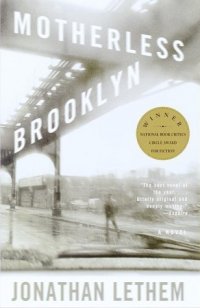 | Location | Call Number | Branch | Item Status |
| --- | --- | --- | --- |
| Downtown 2nd Floor | Fiction / Lethem, Jonathan | Downtown Library | Due 04-30-2020 |
From America's most inventive novelist comes this virtuoso riff on the classic detective novel. Lionel Essrog, who has Tourette's Syndrome, and three other veterans from St. Vincent's Home for Boys work for a small-time mobster. When the mobster is fatally stabbed, Lionel's world is turned topsy-turvy.

REVIEWS & SUMMARIES
Summary / Annotation
Fiction Profile
Author Notes
COMMUNITY REVIEWS
Motherless Brooklyn submitted by Caser on October 18, 2008, 3:11pm "New York is a Tourettic city," claims Lionel, the protagonist of Jonathan Lethem's 1999 novel, Motherless Brooklyn. And Lionel would know something about it, since he has Tourette's Syndrome, a condition defined by a spectrum of tic disorders, in his case both physical and vocal. The logophile will either love or hate Lionel, for he obsessively deconstructs overheard language into new phrases and words, sometimes interjecting them into his everyday speech. Thus, the novel is stylized by Lionel's disorder, melding a psychological study with hard-boiled detective piece, which ostensibly makes up the framework of the plot.

Lionel is an orphan living in Brooklyn, reared and schooled by the manipulative Brooklyn-ese philosophy of small-time crook, Frank Minna. When Minna is killed, Lionel and his orphan brothers, the self titled Minna Men, sort out who will take over Minna's enterprise and figure out who killed their mentor.

Winner of the National Book Critics Circle Award, Motherless Brooklyn is a cerebral, genre-cracking addition to the mythology of that multi-national borough, sure to enthrall both the character-study readers, and those who open a book for a great detective plot.
Well done, though not my typical read submitted by sueij on June 25, 2013, 3:27pm I am completely flummoxed about how to rate this book. It was recommended highly by someone in my bookclub, so I requested it from the library, content completely unknown.

It was a complete shock. An orphan kid with Tourette's narrates solving a murder of his small-time mobster boss? I would never have picked it up.

It was odd. Being inside Lionel's head was... faintly disturbing. But... maybe that was kind of the point. You could *feel* what the Tourette's did to him, how it made him think and act and obsess. That was completely fascinating.

Small time hit men in Brooklyn don't interest me at all, though. And yet, solving the mystery of Minna's murder was really well done.

So I didn't *exactly* enjoy the book, but I could hardly put it down. I will always read well-written things that are recommended to me, and this was a great excursion into something well outside of my usual zone. I'm not sorry I went there at all.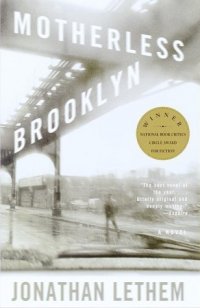 PUBLISHED
New York : Doubleday, 1999.
Year Published: 1999
Description: 311 p.
Language: English
Format: Book

ISBN/STANDARD NUMBER
9780375724831

SUBJECTS
Tourette syndrome -- Patients -- Fiction.
Young men -- New York -- Fiction.
Brooklyn (New York, N.Y.) -- Fiction.