Press enter after choosing selection
Hank's big day : : the Story of a bug
Kuhlman, Evan. Book - 2016 None on shelf 6 requests on 0 copies Community Rating: 4.6 out of 5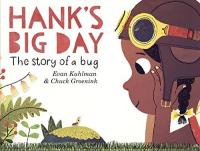 AADL has no copies of this item

Hank is a pill bug whose daily routine involves nibbling a dead leaf, climbing up a long stick, avoiding a skateboarder, and playing pretend with his best friend, a human girl named Amelia.

REVIEWS & SUMMARIES
School Library Journal Review
Booklist Review
Publishers Weekly Review
Summary / Annotation
Fiction Profile
Author Notes
COMMUNITY REVIEWS
Very cute submitted by rachelmcglash on August 20, 2018, 10:25pm Great story from little pillbug's (Hank) perspective.
This is what friendship looks like submitted by katiekipp on June 17, 2019, 10:41pm I love this book so much. It is simple, wholesome, and wonderful!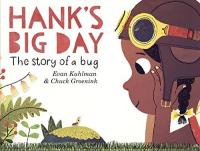 PUBLISHED
New york : Schwartz & Wade Books, [2016]
Year Published: 2016
Description: 1 v. (unpaged)
Language: English
Format: Book

ISBN/STANDARD NUMBER
9780553511505

ADDITIONAL CREDITS
Groenink, Chuck.

SUBJECTS
Wood lice (Crustaceans) -- Fiction.
Human-animal relationships -- Fiction.
Best friends -- Fiction.
Play -- Fiction.