Press enter after choosing selection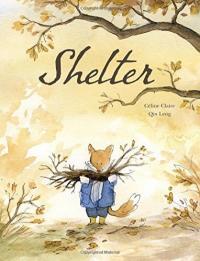 Locations
Call Number: E CLA, Kids Book / Picture Books / Friendship / Claire, Celine
On Shelf At: Downtown Library, Malletts Creek Branch, Westgate Branch

| Location | Call Number | Branch | Item Status |
| --- | --- | --- | --- |
| [dypb ]Downtown Youth Picture Books | E CLA | Downtown Library | On Shelf |
| [dypb ]Downtown Youth Picture Books | E CLA | Downtown Library | On Shelf |
| Malletts Youth Picture Books | E CLA | Malletts Creek Branch | On Shelf |
| Westgate Kids Books | Kids Book / Picture Books / Friendship / Claire, Celine | Westgate Branch | On Shelf |
| Pittsfield Youth Picture Books | E CLA | Pittsfield Branch | Due 08-11-2018 |
"As a big storm approaches, two strangers arrive in the forest. All the animal families, safe in their homes, are worried, unsure of their motives. So they all turn them away when they ask for shelter, and the strangers are left to fend for themselves. But then the fox family is suddenly forced out into the storm, and they must ask these outsiders for help. Will they find it in their hearts to give it? A timeless - and timely - story about generosity, and the difference even small acts of kindness can make to those in need."-- Provided by publisher.

REVIEWS & SUMMARIES
School Library Journal Review
Booklist Review
Summary / Annotation
Author Notes
COMMUNITY REVIEWS
Shelter submitted by yujiehua on August 29, 2017, 1:40pm This book taught me a lot of morals.
Goodness in animals submitted by hadleysnicole on June 26, 2018, 8:03am The Shelter by Céline Claire is a beautiful and wonderful story that teaches about goodness. A big storm is brewing and all the animals are headed inside for safety. But two lone bears are out and about. They knock door to door looking for shelter from the storm. They offer their tea in exchange, but no one opens their doors. Once snow starts to fall the bears make their own shelter, and are able to be the help someone else needs when the time arrives.

The reader is introduced to a small group of animals who are preparing for a storm. Two polar bear brother are stuck in the storm. They try to find shelter from other animals but as they go door to door no one lets them in. While the fox den turns the bears away because of size, the foxes helped the bears with a small gift. Eventually the bears find their own shelter and when the fox family finds themselves in the cold when their den collapses the bears invite the foxes in to their shelter.

The story has a great message of goodness and helping other when possible. The pictures are done by watercolor illustrations, which shows the mood and atmosphere of the story. It brings the beauty of the forest, it's inhabitants, their hidden houses and families to the reader. A true story of friendship, caring, compassion, sharing and love.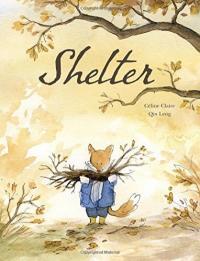 PUBLISHED
Toronto : Kids Can Press, 2017.
Year Published: 2017
Description: 1 volume (unnumbered pages) : color illustrations ; 29 cm.
Language: English
Format: Book

ISBN/STANDARD NUMBER
9781771389273
1771389273

ADDITIONAL CREDITS
Leng, Qin.
Ghione, Yvette.

SUBJECTS
Animals -- Fiction.
Foxes -- Fiction.