Press enter after choosing selection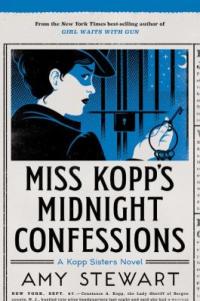 Locations
Call Number: Mystery / Stewart, Amy, Adult Book / Fiction / Mystery / Historical / Stewart, Amy
On Shelf At: Downtown Library, Malletts Creek Branch, Pittsfield Branch, Traverwood Branch, Westgate Branch

Location

& Checkout Length

Call Number
Checkout Length
Item Status
Downtown 2nd Floor
4-week checkout
Mystery / Stewart, Amy
4-week checkout
On Shelf
Downtown 2nd Floor
4-week checkout
Mystery / Stewart, Amy
4-week checkout
On Shelf
Malletts Adult Books
4-week checkout
Adult Book / Fiction / Mystery / Historical / Stewart, Amy
4-week checkout
On Shelf
Pittsfield Adult Books
4-week checkout
Adult Book / Fiction / Mystery / Historical / Stewart, Amy
4-week checkout
On Shelf
Traverwood Adult Books
4-week checkout
Adult Book / Fiction / Mystery / Historical / Stewart, Amy
4-week checkout
On Shelf
Westgate Adult Books
4-week checkout
Adult Book / Fiction / Mystery / Historical / Stewart, Amy
4-week checkout
On Shelf
Westgate Adult Books
4-week checkout
Adult Book / Fiction / Mystery / Historical / Stewart, Amy
4-week checkout
On Shelf
"The best-selling author of Girl Waits with Gun and Lady Cop Makes Trouble continues her extraordinary journey into the real lives of the forgotten but fabulous Kopp sisters ... Deputy sheriff Constance Kopp is outraged to see young women brought into the Hackensack jail over dubious charges of waywardness, incorrigibility, and moral depravity. The strong-willed, patriotic Edna Heustis, who left home to work in a munitions factory, certainly doesn't belong behind bars. And sixteen-year-old runaway Minnie Davis, with few prospects and fewer friends, shouldn't be publicly shamed and packed off to a state-run reformatory. But such were the laws--and morals--of 1916. Constance uses her authority as deputy sheriff, and occasionally exceeds it, to investigate and defend these women when no one else will. But it's her sister Fleurette who puts Constance's beliefs to the test and forces her to reckon with her own ideas of how a young woman should and shouldn't behave. Against the backdrop of World War I, and drawn once again from the true story of the Kopp sisters, Miss Kopp's Midnight Confessions is a spirited, page-turning story that will delight fans of historical fiction and lighthearted detective fiction alike"-- Provided by publisher.

REVIEWS & SUMMARIES
Library Journal Review
Booklist Review
Publishers Weekly Review
Summary / Annotation
Fiction Profile
Author Notes
COMMUNITY REVIEWS
No community reviews. Write one below!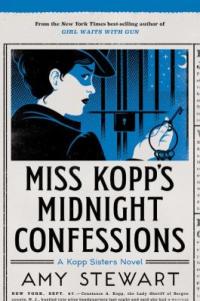 SERIES
A Kopp sisters novel


PUBLISHED
Boston : Houghton Mifflin Harcourt, 2017.
Year Published: 2017
Description: 374 pages ; 24 cm.
Language: English
Format: Book

ISBN/STANDARD NUMBER
9780544409996
054440999X

SUBJECTS
Women detectives -- Fiction.
Sisters -- Fiction.
United States -- Social life and customs -- 1865-1918 -- Fiction.
Mystery fiction.
Historical fiction.
Detective and mystery fiction.