Press enter after choosing selection
Fargo. The Complete 1st Season
DVD - 2014 DVD TV Fargo Season 1 5 On Shelf No requests on this item Community Rating: 4.6 out of 5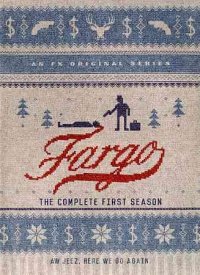 Locations
Call Number: DVD TV Fargo Season 1
On Shelf At: Downtown Library, Pittsfield Branch, Traverwood Branch, Westgate Branch

| Location | Call Number | Branch | Item Status |
| --- | --- | --- | --- |
| Downtown 1st Floor | DVD TV Fargo Season 1 | Downtown Library | On Shelf |
| Downtown 1st Floor | DVD TV Fargo Season 1 | Downtown Library | On Shelf |
| Pittsfield Adult A/V | DVD TV Fargo Season 1 | Pittsfield Branch | On Shelf |
| Traverwood Adult A/V | DVD TV Fargo Season 1 | Traverwood Branch | On Shelf |
| Westgate Adult A/V | DVD TV Fargo Season 1 | Westgate Branch | On Shelf |
| Malletts Adult A/V | DVD TV Fargo Season 1 | Malletts Creek Branch | Due 11-02-2021 |
Title from container.
DVD release of episodes orginally broadcast on television in 2014.
Special features: Commentary by Billy Bob Thornton, Allison Tolman and Noah Hawley (on select episodes) ; This is a true story ; greetings from Bemidji ; shades of green ; deleted scenes.
Disc 1: The Rooster Prince -- Special features.
Disc 2: The Six Ungraspables -- Special features.
Disc 3: The Heap -- Special features.
Disc 4: Morton's Fork -- Special features.
Billy Bob Thornton, Colin Hanks, Martin Freeman, Allison Tolman, Bob Odenkirk, Oliver Platt, Keith Carradine.
The Coen Brothers Best Picture Oscar Nominee transforms into the season's most talked about TV debut. It features a new "true crime" story and new characters, all chilled in the trademark dry wit, murderous mayhem and "Minnesota nice" of the original classic film. Lorne Malvo, is a manipulative master criminal who changes the life of insurance salesmen Lester Nygaard. Gus Grimly and Molly Solverson are the small-town police officers who join forces to uncover Lester's secrets.
DVD ; widescreen (1.78:1) presentation ; Dolby digital 5.1 surround.

COMMUNITY REVIEWS
good stuff! submitted by manz on January 14, 2015, 8:45am This is a really good show! If you're a fan of Coens and the Fargo movie or police dramas, you'll like it. I really enjoyed the new characters in the new space. Martin Freeman is great!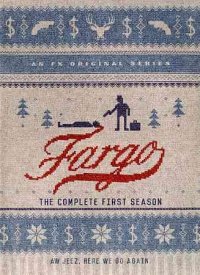 SERIES
Fargo (Television program)

PUBLISHED
[Berverly Hills, California] : MGM Television Entertainment, [2014]
Year Published: 2014
Description: 4 videodiscs (541 min.) : sound, color ; 4 3/4 in.
Language: English
Format: DVD

ADDITIONAL CREDITS
Thornton, Billy Bob,
Hanks, Colin, 1977-
Freeman, Martin, 1971-
Tolman, Allison,
Platt, Oliver,
Odenkirk, Bob, 1962-
Carradine, Keith, 1949-
Twentieth Century Fox Home Entertainment, Inc.,

SUBJECTS
Crime -- Drama.
Criminals -- Drama.
Police -- Drama.
Murder -- Investigation -- Drama.
Insurance agents -- Drama.
Bemidji (Minn.) -- Drama.
Minnesota -- Drama.
Fiction television programs.
Television crime shows.
Television cop shows.
Television series.
Video recordings for the hearing impaired.