Press enter after choosing selection
Giant Checkers.
Tools Games 1 On Shelf No requests on this item Community Rating: 4.9 out of 5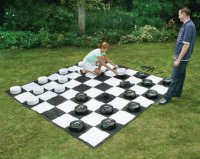 Locations
Call Number: Games
On Shelf At: Tools

| Location | Call Number | Branch | Item Status |
| --- | --- | --- | --- |
| Downtown 1st Floor Tools Shelf | Games | Tools | Reshelving |
| Downtown 1st Floor Tools Shelf | Games | Tools | In transit |
| Downtown 1st Floor Tools Shelf | Games | Tools | Due 02-08-2019 |
| Downtown 1st Floor Tools Shelf | Games | Tools | Due 03-27-2019 |
| Downtown 1st Floor Tools Shelf | Games | Tools | Due 03-26-2019 |
COMMUNITY REVIEWS
giant game submitted by angelaf on July 9, 2014, 7:56pm Our kids had fun with this game by the pool!
Wonderful! submitted by jlc2193 on August 4, 2014, 12:10pm This was a HUGE (pun intended) hit at our party. Adults and kids enjoyed playing throughout the evening. Everyone was astonished and amazed to find out that we checked it out from our wonderful library!!
lots of fun submitted by lawrencekl57 on July 1, 2015, 7:30pm I just wish that it wasn't quite so heavy! It's got wheels on its case, but that doesn't help get it into the car!
Love our library submitted by rachel on July 9, 2015, 12:31pm This is another great example of our innovative library!
checkers submitted by Diahann on August 2, 2015, 10:53pm I can't wait to play in a large way:-) lol
amazing submitted by Dron.Druheen on August 6, 2015, 11:24am My boys love it
great submitted by CollinFred on August 21, 2015, 4:53pm These checkers are the biggest checkers I've ever seen in my entire life! They were a lot of fun.
Great for babysitter submitted by Thomas B Brown on June 19, 2016, 12:41pm My daughter brought this babysitting. Great fun!
What fun! submitted by PattySmith on June 21, 2016, 8:23am I used this checker game at a children's party this weekend and it was a huge hit! It comes with stakes that hold it securely in the ground to keep it from flying away. We'll most definitely check this item out again!
Timepass submitted by Spandanakilari on August 2, 2016, 12:14pm Fun game
checkers submitted by dree411 on August 21, 2016, 2:47pm A giant yard checkers game is so fun
Party submitted by adeesh on June 16, 2017, 1:55pm My friend used this to have an outdoor party
Great for a backyard party! submitted by mickplu on July 7, 2017, 7:39pm Love these giant checkers! Perfect for backyard parties or BBQ's.
What fun submitted by Team_ROX on July 24, 2018, 1:59pm It was so fun at my house-warming party
Bigger is better submitted by elepling on August 6, 2018, 1:04pm Great backyard party game
Giant checkers submitted by JerryYang on August 31, 2018, 11:56pm Very fun to play with my dad.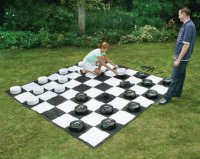 PUBLISHED
Year Published:
Language: English
Format: Tools