Press enter after choosing selection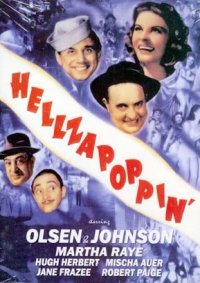 Locations
Call Number: DVD Musical Hellzapoppin'
On Shelf At: Downtown Library

| Location | Call Number | Branch | Item Status |
| --- | --- | --- | --- |
| Downtown 1st Floor | DVD Musical Hellzapoppin' | Downtown Library | On Shelf |
Based on an original story by Nat Perrin, suggested by the stage play, "Olsen & Johnson's Hellzapoppin."
Ole Olsen, Chic Johnson, Martha Raye, Shemp Howard, Hugh Herbert, Mischa Auer, Elisha Cook, Jr., Jane Frazee, Robert Paige.
"Playing incompetent nitwits, Ole and Chic hire a producer to make a musical show at a fancy estate. What follows are non-stop zany gags and jokes when the producer takes on extracurricular activities by falling in love with the estate's wealthy girl. However he's encumbered by the girl's fiancé. A wild love triangle ensues, complicated by Chic's sister because a penniless Russian aristocrat mistakes her for the wealthy girl. Based on the hit Broadway play"--Container label.

COMMUNITY REVIEWS
No community reviews. Write one below!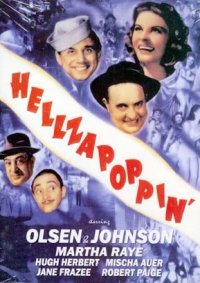 PUBLISHED
[United States] : Universal Films, c2007.
Year Published: 2007
Description: 1 DVD (80 min.) : sd., b&w.
Language: English
Format: DVD

ADDITIONAL CREDITS
Olsen, Ole.
Johnson, Chic, 1891-1962.
Raye, Martha.
Howard, Shemp, 1895-1955.
Herbert, F. Hugh 1897-1958.
Auer, Mischa, 1905-1967.
Cook, Elisha, Jr.
Frazee, Jane, 1918-1985.
Paige, Robert, 1910-1987.
Potter, H. C. 1904-1977.
Perrin, Nat.
Wilson, Warren, 1909-
Universal Pictures (Firm)

SUBJECTS
Musical films.
Comedy films.
Feature films.