Press enter after choosing selection
While the City Sleeps
DVD - 2010 DVD Drama While 2 On Shelf No requests on this item Community Rating: 4 out of 5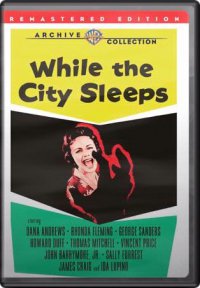 Locations
Call Number: DVD Drama While
On Shelf At: Downtown Library, Westgate Branch

Location

& Checkout Length

Call Number
Checkout Length
Item Status
Downtown 1st Floor
1-week checkout
DVD Drama While
1-week checkout
On Shelf
Westgate Adult A/V
1-week checkout
DVD Drama While
1-week checkout
On Shelf
Based on the novel The bloody spur by Charles Einstein.
Originally released as a motion picture in 1956.
Dana Andrews, Rhonda Fleming, George Sanders, Howard Duff, Thomas Mitchell, Vincent Price, John Barrymore, Jr., Sally Forrest, James Craig, Ida Lupino.
"Ask mother" says the message scrawled in lipstick at a muder scene by an unknown serial killer who preys on women. It's a sensational story - if it bleeds, it leads - and a news conglomerate offers a big promotion to the high-level company exec who solves the case. So begins the wheeling, dealing and backstabbing of the competing media hotshots as they vie to unmask the so-called Lipstick Killer.
DVD; widescreen (16x9, 2:1); Dolby digital.
Contents: Bloody spur.

COMMUNITY REVIEWS
No community reviews. Write one below!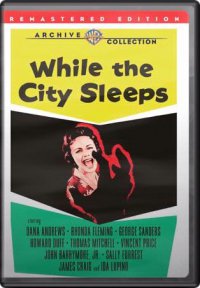 SERIES
Archive collection.


PUBLISHED
Burbank, CA : Turner Entertainment, c2010.
Year Published: 2010
Description: 1 videodisc (99 min.) : sd., b&w ; 4 3/4 in.
Language: English
Rated: NR
Format: DVD

ADDITIONAL CREDITS
Andrews, Dana, 1909-1992.
Fleming, Rhonda, 1923-
Sanders, George, 1906-1972.
Duff, Howard.
Mitchell, Thomas, 1892-1962.
Price, Vincent, 1911-1993.
Forrest, Sally.
Barrymore, John, 1932-2004.
Craig, James, 1912-1985.
Lupino, Ida, 1918-1995.
Robinson, Casey.
Gilbert, Herschel Burke.
Friedlob, Bert E., 1906-1956.
Lang, Fritz, 1890-1976.
Einstein, Charles.
Warner Bros. Entertainment.
RKO Radio Pictures.

SUBJECTS
Reporters and reporting -- Drama.
Serial murders -- Drama.
New York (N.Y.) -- Drama.
Feature films.
Fiction films.
Film noir.