Press enter after choosing selection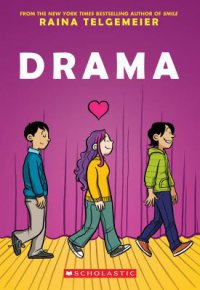 Locations
Call Number: Youth Graphic Novel / Telgemeier, Raina, Kids Book / Comics & Graphic Novels / General / Telgemeier, Raina
On Shelf At: Downtown Library, Pittsfield Branch

Location

& Checkout Length

Call Number
Checkout Length
Item Status
Downtown Kids Books
4-week checkout
Youth Graphic Novel / Telgemeier, Raina
4-week checkout
On Shelf
Downtown Kids Books
4-week checkout
Youth Graphic Novel / Telgemeier, Raina
4-week checkout
Due 06-21-2023
Downtown Kids Books
4-week checkout
Youth Graphic Novel / Telgemeier, Raina
4-week checkout
Due 06-25-2023
Downtown Kids Books
4-week checkout
Youth Graphic Novel / Telgemeier, Raina
4-week checkout
Due 05-25-2023
Downtown Kids Books
4-week checkout
Youth Graphic Novel / Telgemeier, Raina
4-week checkout
Due 06-20-2023
Downtown Kids Books
4-week checkout
Youth Graphic Novel / Telgemeier, Raina
4-week checkout
Due 06-25-2023
Downtown Kids Books
4-week checkout
Youth Graphic Novel / Telgemeier, Raina
4-week checkout
Due 06-20-2023
Pittsfield Kids Books
4-week checkout
Kids Book / Comics & Graphic Novels / General / Telgemeier, Raina
4-week checkout
On Shelf
Pittsfield Kids Books
4-week checkout
Kids Book / Comics & Graphic Novels / General / Telgemeier, Raina
4-week checkout
Due 06-22-2023
Malletts Kids Books
4-week checkout
Kids Book / Comics & Graphic Novels / General / Telgemeier, Raina
4-week checkout
Due 06-16-2023
Malletts Kids Books
4-week checkout
Kids Book / Comics & Graphic Novels / General / Telgemeier, Raina
4-week checkout
Due 06-12-2023
Traverwood Kids Books
4-week checkout
Kids Book / Comics & Graphic Novels / General / Telgemeier, Raina
4-week checkout
Due 06-30-2023
Traverwood Kids Books
4-week checkout
Kids Book / Comics & Graphic Novels / General / Telgemeier, Raina
4-week checkout
Due 06-07-2023
Westgate Kids Books
4-week checkout
Kids Book / Comics & Graphic Novels / General / Telgemeier, Raina
4-week checkout
Due 06-21-2023
Westgate Kids Books
4-week checkout
Kids Book / Comics & Graphic Novels / General / Telgemeier, Raina
4-week checkout
Due 05-20-2023
Callie rides an emotional roller coaster while serving on the stage crew for a middle school production of Moon over Mississippi as various relationships start and end, and others never quite get going.

REVIEWS & SUMMARIES
School Library Journal Review
Booklist Review
Publishers Weekly Review
Summary / Annotation
Fiction Profile
Author Notes
COMMUNITY REVIEWS
Loved it submitted by Motomori on June 17, 2013, 11:35am This book had so much meaning to it which is why I loved it so much. Some people can relate to it and some people may just love the comedy put into this!!!! This definitely deserves a five star rating!!!!
Coming of Age and School Drama submitted by sdunav on June 18, 2013, 5:51pm This is a fun YA/older middle grade graphic novel about a 7th grade theater geek. Sexuality (being gay or bi) is mentioned, in a casual way - the upshot of Telgemeier's story is that friends and work you love is more important than romance, especially at this age, and that everyone's confused when it comes to figuring it all out.
Awesome submitted by eagles on June 21, 2013, 8:44am This graphic novel really interests me and I recommend it to all the people out there
unrealistic skills submitted by camelsamba on July 7, 2013, 1:52pm I didn't enjoy this nearly as much as Smile (by the same author). Although it's allegedly set in middle school, it seemed a lot more like high school. The sexuality seemed slightly more sophisticated than the middle schoolers I know, but I can overlook that (currently have 7th and 9th graders and a 9yo, so I do have some recent observations to draw on!). Since the romance was a bigger focus than in Smile, that's part of what made it less appealing for my 9yo.

But the skill level relative to the drama production is where I was really shaking my head. I'm supposed to believe an 8th grader can design and make all costumes for a period piece (including boning in corsets??), a 7th grader design all the sets and manage their production? Sorry, but no. Especially not without significant adult help, and we barely even see the teacher sponsor in this. I suppose this is another example of absent adults so the main characters can have the dramatic literary tension, but that ruined it for me. (My drama experience: sister of a costume designer. Even in college she wasn't doing shows on her own!) Because I couldn't think of these characters as tweens, the rest fell flat.
great submitted by ECReader on July 10, 2014, 7:13am this book was super good! i loved the drama and the funness of the book.
AHHHH submitted by leoniemmm on August 15, 2014, 5:10pm this is one of my favorite books
for one, i love Rania, and her artwork is amazing (she also did SMILE and the BABYSITTERS CLUB graphic novels)
also, I'm involved in theater at my school, and while for a middle school their program seems very advanced, my high school does all student productions and its A LOT of work and fun! and always very dramatic haha
plus, callie has so much style and i love her hair and its just a super inspiring and cute book
*****
BEST BOOK EVER submitted by LIO LOVER 12 on June 9, 2015, 7:03pm it's the best book ever you should read it
sooooooooo goodddddddd submitted by SEAL LOVER 12 on June 13, 2015, 3:22pm best book ever it's a must read
This book is okay submitted by zoe.dvh on June 20, 2015, 7:55am It's not the best book ever, but its an okay choice. So, if you plan on requesting it, just beware: It can be pretty boring. I think this book deserves a 2-3 star rating. But, as always, Raina Telgemeier's comic art is amazing!
my 11-year-old loved it submitted by amy on June 29, 2015, 9:15am My 11-year-old theater-loving son devoured this book. From the moment he opened it, he couldn't put it down. He said it rang true on all levels and made him feel part of a bigger community.
nice submitted by yslee on July 8, 2015, 10:33am another one of Raina Telgemeier's awesome graphic novels :)
Good but confusing submitted by Merlin800 on July 13, 2015, 12:46pm This book was really good but at times, I had to look back in the book because I didn't get it.
Well done - for older kids though submitted by EllieN-W on August 30, 2015, 11:12pm Our 8 year old loved Sisters and Smile, both buy Telgemeier as well. Drama was well done and interesting, but did not hold her interest as much and had older themes.
great book submitted by srajapaksa on July 9, 2016, 2:50pm This book is good. This is also one of my faves . I also think it deserves a five star rating.
Adore submitted by Justin Shim on July 10, 2016, 11:28am This novel may be one of the best ones ever written. Filled with jokes, friendship, and heartbreaks, all under a high pressure theater scenario. It's very realistic yet at the same time, it's funny and cool. Anyone is able to read this.
Amazing submitted by baidelk on July 23, 2016, 4:27pm I am 7 and I thought the book was awesome. I loved Sisters too.
Drama submitted by Ele Z. on June 18, 2017, 2:52pm I loved It! I wish I was in eights grade
drama submitted by mahmoud123 on July 2, 2017, 1:54pm could be better
Drama by Raina Teljemeier submitted by Lila F. on June 16, 2018, 2:44pm This book is really great for all the middle school theater geeks, like me, that are out there
Drama submitted by Corgo0828 on June 16, 2018, 2:46pm Super amazing book!! Read this a million times


good submitted by i'm a blobfish on June 23, 2018, 5:47pm a really fun and great book. Totally suggest it.
Great submitted by Shahed on June 23, 2018, 11:28pm LOVE THIS BOOK! tho don't recommend for ages so young. But it promotes so many good issues in the world. Well sort of. If you're really looking for those issues, you'll know
11yo Reluctant Reader submitted by corywill86 on June 18, 2019, 4:14pm This, as well as Smile, were big hits for my 11yo reluctant reader.
drama submitted by avgriffith on June 20, 2019, 12:31pm I think Drama is a great book!! I think it proves a good point and that the drawings are really good!!
You Are Special submitted by kafi on July 2, 2019, 11:27am Drama was an Awesome book. I have read it at least 5x. It shows how even if you like a girl or boy, that doesn't make you different. Callie still loved to help Justin even if he was gay. Justin has been a great friend to Callie, and they both know that being gay isn't a bad thing. In the end, she still helps Jesse when she found out that he liked West. Callie loves to help in general. She is nice and kind, funny, smart. If I was in that book, I would be proud to have a friend like Callie.
another masterpiece by rania! submitted by Kadydja13 on July 14, 2019, 4:36pm i love her books! this was a fun read lol! after this, my favorite is smile
Graphic novels R awesome! submitted by yorkjenn on July 21, 2019, 9:30am I recently read Drama by Raina Telgemeier for the third time, and it was awesome! I love Callie's pink and purple hair! I really like all Raina's books, including Smile, Sisters, and ghosts. I still can't completely pronounce Telgemeier, but her books are some of my absolute favorite! I completely recommend this book! -Addy kat
Drama submitted by Varshini on July 23, 2019, 8:41am Great graphic novel. This is about middle school relationships.
Good book submitted by jasonc1177 on July 31, 2019, 7:42pm An amazing science fiction book!

great book submitted by meghantpowell on August 2, 2019, 4:45pm this book had me hooked from the beginning and it is very funny!
d submitted by Kenes on July 12, 2020, 12:22am graphic novel
AMAZINGGGGGGG! submitted by 2025MJW on July 16, 2020, 1:56pm I really loved this book. It's probably my 2nd favorite of all of Raina Telgemeier's books (with my all-time favorite being Guts.). The artwork is superb, and I think that anyone who's age 10-19 will enjoy it. No guarantees, though!
wqd submitted by GioMuzique on August 4, 2020, 7:13pm good book for high school kids
Good submitted by jgriffin on June 21, 2021, 8:37am I liked it.
good book submitted by Isha on June 15, 2022, 6:41pm it was a good book, and was fun to read.
awesome! submitted by kmatta on June 28, 2022, 3:38pm the book drama is the best book ever!!!!! but i hated it when jesse ditches callie at the dance . i hate him !!!!
ok submitted by KevinJudge on June 30, 2022, 5:49pm ok
good book! submitted by umich.reader on July 9, 2022, 4:23pm Good book with LGBTQ representation.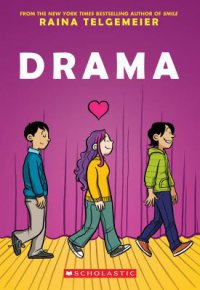 PUBLISHED
New York, NY : Graphix, 2012.
Year Published: 2012
Description: 233 p. ; col. ill. ; 21 cm.
Language: English
Format: Graphic Novel

READING LEVEL
Lexile: 400

ISBN/STANDARD NUMBER
9780545326995
0545326982

ADDITIONAL CREDITS
Gurihiru.

SUBJECTS
Theater -- Fiction.
Interpersonal relations -- Fiction.
Middle schools -- Fiction.
Graphic novels.