Press enter after choosing selection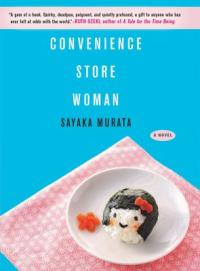 Locations
Call Number: Fiction / Murata, Sayaka, Adult Book / Fiction / General / Murata, Sayaka
On Shelf At: Pittsfield Branch, Westgate Branch

| Location | Call Number | Branch | Item Status |
| --- | --- | --- | --- |
| Pittsfield Adult | Fiction / Murata, Sayaka | Pittsfield Branch | On Shelf |
| Westgate Adult Books | Adult Book / Fiction / General / Murata, Sayaka | Westgate Branch | On Shelf |
| Westgate Adult Books | Adult Book / Fiction / General / Murata, Sayaka | Westgate Branch | Due 05-16-2019 |
| Westgate Adult Books | Adult Book / Fiction / General / Murata, Sayaka | Westgate Branch | Due 04-19-2019 |
| Downtown 2nd Floor | Fiction / Murata, Sayaka | Downtown Library | Due 05-12-2019 |
| Downtown 2nd Floor | Fiction / Murata, Sayaka | Downtown Library | Due 05-07-2019 |
| Downtown 2nd Floor | Fiction / Murata, Sayaka | Downtown Library | Due 05-01-2019 |
| Traverwood Adult | Fiction / Murata, Sayaka | Traverwood Branch | Due 05-02-2019 |
"Keiko Furukura had always been considered a strange child, and her parents always worried how she would get on in the real world, so when she takes on a job in a convenience store while at university, they are delighted for her. For her part, in the convenience store she finds a predictable world mandated by the store manual, which dictates how the workers should act and what they should say, and she copies her coworkers' style of dress and speech patterns so that she can play the part of a normal person. However, eighteen years later, at age 36, she is still in the same job, has never had a boyfriend, and has only few friends. She feels comfortable in her life, but is aware that she is not living up to society's expectations and causing her family to worry about her. When a similarly alienated but cynical and bitter young man comes to work in the store, he will upset Keiko's contented stasis--but will it be for the better? Sayaka Murata brilliantly captures the atmosphere of the familiar convenience store that is so much part of life in Japan. With some laugh-out-loud moments prompted by the disconnect between Keiko's thoughts and those of the people around her, she provides a sharp look at Japanese society and the pressure to conform, as well as penetrating insights into the female mind. Convenience Store Woman is a fresh, charming portrait of an unforgettable heroine that recalls Banana Yoshimoto, Han Kang, and Amélie ." -- (Source of summary not specified)

REVIEWS & SUMMARIES
Library Journal Review
Booklist Review
Publishers Weekly Review
Summary / Annotation
Fiction Profile
Author Notes
COMMUNITY REVIEWS
one of my favorite books of 2018 submitted by spostjacobs on June 27, 2018, 10:31am Convenience Store Woman asks the perennial question of what constitutes a happy & fulfilling life (and who gets to decide) in interesting ways. The main character Keiko Furukura has been working in the same convenience store for 18 years, since she was a university student. Social interactions have always confused Keiko, and the routine that is part of her job gives her a sense of purpose. Her status as an unmarried, childless woman with a non-career track job has begun to make her family & friends feel as though they need to "fix" her (we can all guess their recommended "remedies). This tension allows author Sayaka Murata to critique societal conformance, but the novel never feels weighted down. Murata perfectly evokes the neon comfort of the convenience store and the self-contained world of working in any corporate store.
Slim and sly, a great read! submitted by Lucy S on July 3, 2018, 10:24am Keiko seems rigid and set in her ways to say the least, but is actually incredibly perceptive about other people. 18 years of carefully observing the habits and patterns of customers in a convenience store has given her an ability to read people. As Keiko lacks subtlety, the story she tells in this slim book is funny and sly, a subversive look at the expectations for women of a certain age and the unquestioned conventions of society.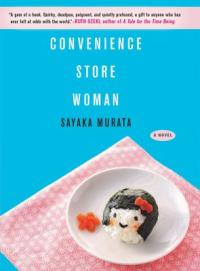 PUBLISHED
New York : Grove Press, 2018.
Year Published: 2018
Description: 163 pages ; 19 cm
Language: English
Format: Book

ISBN/STANDARD NUMBER
9780802128256
0802128254

ADDITIONAL CREDITS
Takemori, Ginny Tapley.

SUBJECTS
Man-woman relationships -- Fiction.
Japan -- Social life and customs -- Fiction.