Press enter after choosing selection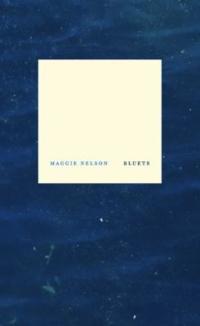 Location

& Checkout Length

Call Number
Checkout Length
Item Status
Downtown 2nd Floor
4-week checkout
811.54 Ne
4-week checkout
Due 02-27-2023
Malletts Adult Books
4-week checkout
Adult Book / Nonfiction / Literary Arts / Essays / Nelson, Maggie
4-week checkout
Due 02-09-2023
"A lyrical, philosophical, and often explicit exploration of personal suffering and the limitations of vision and love, as refracted through the color blue, while folding in, and responding to, the divergent voices and preoccupations of such generative figures as Wittgenstein, Sei Shonagon, William Gass and Joan Mitchell. Bluets further confirms Maggie Nelson's place within the pantheon of brilliant lyric essayists." -- Publisher's description

REVIEWS & SUMMARIES
Summary / Annotation
Author Notes
COMMUNITY REVIEWS
Felt pretentious and boring submitted by dntanzer on August 21, 2018, 12:07pm This may just be a case of "not for me". I came into this book thinking it would be more... poetry, which is my bad. This is actually like an essay that's split up into a bunch of tiny sections. There's a lot of name drops/references to people and works that I don't know and don't care to know. Some of the writing was pretty, but some of it felt pretentious to me. This is probably a better book for somebody with a stronger background/interest in literary history.
Excellent submitted by redwood on August 4, 2019, 12:37pm Meditation on color, depression, love ... incredible, fluidly written, small numbered essays.
A Synesthetic Delight submitted by steeny17 on August 10, 2020, 8:33pm Maggie Nelson's writing bathes the reader in color and texture. It is vivid and visceral, poetic and punchy in turns. She goes from long elegant phrases to ugly sexual comments without pause. Her language is lovely and shocking in turns. It probably isn't for everyone, but I couldn't get enough of this collection of short snippets about depression, loneliness, sex, love, and above all the color blue.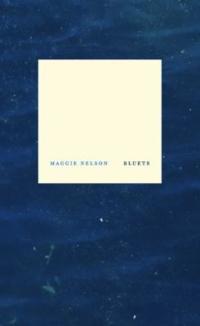 PUBLISHED
Seattle : Wave Books ; [2009]
Year Published: 2009
Description: 99 pages ; 21 cm
Language: English
Format: Book

ISBN/STANDARD NUMBER
9781933517407
1933517409

SUBJECTS
Blue.
Color (Philosophy)
Poetry.