Press enter after choosing selection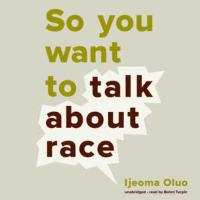 Locations
Call Number: BOCD 305.8 Ol, Adult BOCD / Nonfiction / Social Science / Oluo, Ijeoma
On Shelf At: Downtown Library, Traverwood Branch

Location

& Checkout Length

Call Number
Checkout Length
Item Status
Downtown 2nd Floor
4-week checkout
BOCD 305.8 Ol
4-week checkout
On Shelf
Traverwood Adult A/V
4-week checkout
Adult BOCD / Nonfiction / Social Science / Oluo, Ijeoma
4-week checkout
On Shelf
Westgate Adult A/V
4-week checkout
Adult BOCD / Nonfiction / Social Science / Oluo, Ijeoma
4-week checkout
Due 02-24-2023
Compact discs.
Read by Bahni Turpin.
A current, constructive, and actionable exploration of today's racial landscape, offering straightforward clarity that listeners of all races need to contribute to the dismantling of the racial divide.

REVIEWS & SUMMARIES
Library Journal Review
School Library Journal Review
Publishers Weekly Review
Summary / Annotation
COMMUNITY REVIEWS
So You Want to Talk About Race submitted by Melissa Calabrese on August 23, 2019, 10:22pm This audiobook has been an essential "read" for me this summer. I learned a lot and feel more prepared to have important conversations with others.
Learned despite bitter anger submitted by psgriffi on July 6, 2020, 7:57am Read this book so I could participate in a book club discussion. I now better understand terms like intersectionality and microaggression. Had never known about the model minority model prior to reading this. Most helpful lists were her examples of microaggressions and her examples of privilege. Based on her lists, I have privileges I didn't previously realize were privileges and I have said some microaggressions that were unintentional and probably hurtful. So I was able to learn something even despite the author's bitter anger. Probably could've learned more if the book had been academic.
challenging, educational, attitude-changing submitted by 21621031390949 on July 15, 2020, 9:18pm Very good. A challenging book for this white, cis-gendered female: challenging and educational.
The recorded version is read well. The reader's (and writer's) tone becomes increasingly angry through the book, giving one a very good chance to practice *not* tone policing!
Highly recommend.
might have preferred print submitted by camelsamba on August 28, 2020, 4:24pm There was a lot of good information in this book, but audio was not the best format for me to consume some of the chapters. In particular, I would benefit from a print copy for the statistics-heavy sections. And just for re-reading / reviewing in general.
Important Read submitted by caburr47 on July 17, 2021, 9:40pm This is one to revisit every so often. It initiates uncomfortable conversations for those willing to have them.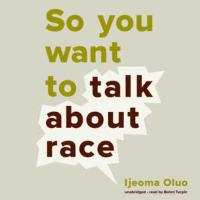 PUBLISHED
Ashland, OR : Blackstone Audio, Inc., ℗2018
Year Published: 2018
Description: 7 audio discs (approximately 7.5 hr.) : CD audio, digital ; 4 3/4 in.
Language: English
Format: Book on CD

ISBN/STANDARD NUMBER
9781538475270
1538475278
9781538475263
153847526X

ADDITIONAL CREDITS
Turpin, Bahni,

SUBJECTS
Intercultural communication.
United States -- Race relations.